Rafael Benitez believes Arsene Wenger is the best Premier League manager
Rafael Benitez believes Arsenal currently top the Premier League table because Arsene Wenger is "the best manager".
By Nadia Carminati
Last Updated: 01/10/13 12:24am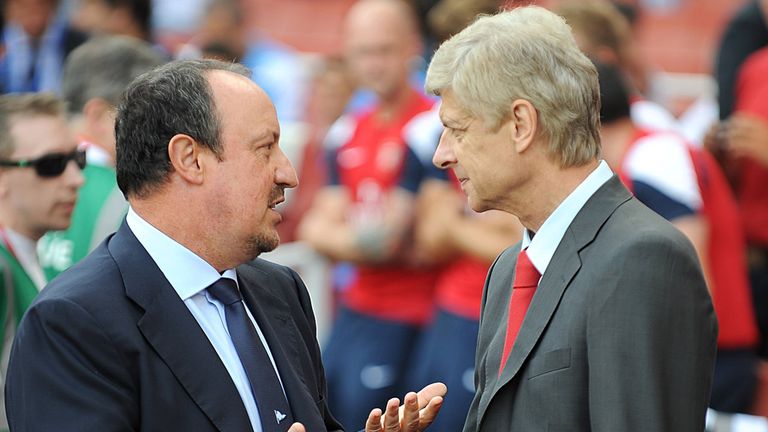 Benitez takes his Serie A side to the Emirates Stadium on Tuesday night with both clubs looking to make it two wins out of two in Champions League Group F.
Wenger was criticised for his lack of activity in the summer transfer window, and the critics increased when Arsenal lost their opening match of the season against Aston Villa.
But the Gunners stormed to the top of the table with five consecutive league victories, and former Chelsea and Liverpool boss Rafael Benitez is not remotely surprised.
"I am expecting a strong team because I think Arsene Wenger is the best coach in the Premier League," said Benitez. "They have signed good players, at this point everything going well for them.
"Wenger is a great manager, a great person, someone who knows the league here in England. He has experience in Europe, Arsenal is always top four and he is doing a great job.
"Hopefully he can win (the Champions League), but another year, not this one."
Benitez has been an interested observer on the opening few weeks of the season, with Arsenal, Liverpool and Tottenham all starting strongly while both Manchester clubs have been inconsistent.
"Arsenal have great manager and a good team, Liverpool they continue growing, so the second year with a new manager, everybody is expecting them to be in the top four and are doing well," he said.
"The other top sides are not at the level at the moment, they have new managers too, but I think it will only be a matter of time before you see five or six teams at the top, who will be more or less the same (as before)."
Benitez also insisted he feels more than comfortable in his new surroundings on the Italian south-west coast.
"It is a nice place, nice fans with a lot of passion and commitment, very similar to Liverpool in terms of the passion for the team who enjoy football," he said.
"You see it everywhere, in the city and the workers when they go to the stadium love the team. That is why it has been easy for me.
"The players work very hard, so there is a lot of positives now.
"After 26 years of coaching around the world, you have to adapt and you have to enjoy it when you have an opportunity to manage at a team like Napoli in the Champions League and challenging for the Serie A title.
"It is a great experience and hopefully it will be good until the end."