Transfer News: Napoli not planning to sell Marek Hamsik at the end of the season
Napoli president Aurelio de Laurentiis has dismissed reports that midfielder Marek Hamsik will be put up for sale.
By Nadia Carminati
Last Updated: 20/04/14 2:00pm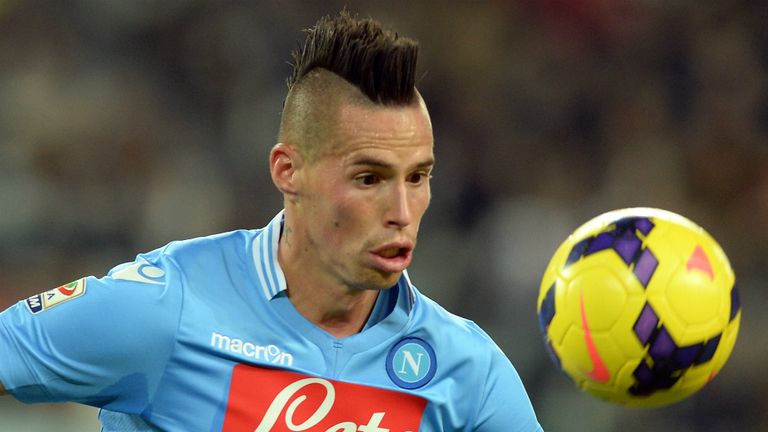 Recent speculation has suggested that Napoli could be prepared to let Hamsik leave the club in the summer following an inconsistent season.
However, De Laurentiis is adamant that the Slovakia international remains an important player and does not expect the 26-year-old to go.
"Why should he be? It's only journalists who put him on the market," De Laurentiis told Radio Kiss Kiss.
"Marek has to come and tell me if he wants to go, but there is no more Neapolitan player than him. He has become Neapolitan and for me he is absolutely not for sale.
"Of course, if he came to me and asked to leave, then we'd have to discuss it."
Meanwhile, De Laurentiis conceded he is unsure if he will make a renewed attempt to sign Maxime Gonalons in the summer after Lyon president Jean-Michel Aulas rejected a January offer from Napoli for the midfielder.
He added: "We will have time to think about it. I found an immediate agreement with Gonalons, but it was Aulas who dug his heels in and pushed things beyond every level.
"Now I don't want to take revenge on Lyon, as that is not part of my nature. Everyone thinks they have gems and ask for outlandish prices.
"With Rafa Benitez and Riccardo Bigon we are considering the situation. The problem is that I prefer focusing on youngsters, as more experienced players can also be a little spoilt. They can do well the first year, but nothing says they'll keep that up in the second or third.
"I prefer to seek 20-year-old talents and Benitez is getting used to this approach, because I am not asking him for everything straight away. I want a team that becomes strong over time."