Genoa president Enrico Preziosi promises Luigi Del Neri his job remains safe
Genoa president Enrico Preziosi has promised Luigi Del Neri his job is safe as long as he owns the club.
Last Updated: 19/11/12 4:39pm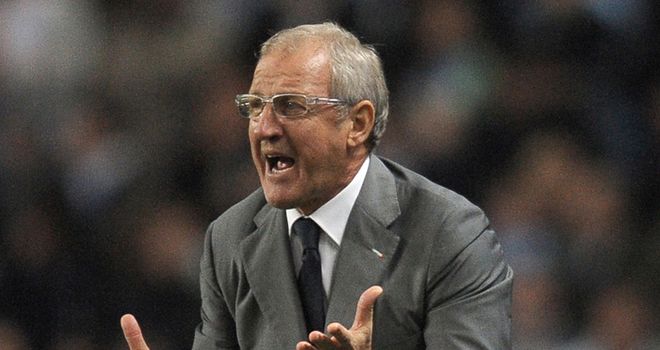 Sunday night saw furious protests outside the Stadio Luigi Ferraris as Genoa suffered a 3-1 derby defeat to Sampdoria, a sixth consecutive loss that put the Grifone on the bottom of the Serie A table.
Del Neri has overseen five of those defeats since replacing Luigi De Canio in October, but Preziosi has no intention of being the man to relieve the 62-year-old of his duties.
He told La Repubblica: "The coach will remain this year and the next. As long as I'm with Genoa I can guarantee that because I'm sure I've found a very good coach. I will give him all the time he needs.
"Unfortunately we have lost six games in a row, I hope it's not seven, but the coach will keep his job whatever happens.
"Protests are fine as long as they're civilised, and I accept the insults as I probably deserve them.
"The fans' reaction is borne of the results. The fans were right to (protest) yesterday as they expected a different result.
"As long as I'm at Genoa it is my responsibility to do my best for the club and take it forward.
"I don't think this team is headed for relegation. Of course there are changes to be made and we will make them.
"But we will do so very carefully so we don't make mistakes."
Del Neri's future could soon change, though, should Preziosi find a willing buyer for the Ligurian outfit, with a Georgian consortium led by Kakha Kaladze rumoured to be among the interested parties.
Preziosi added: "My intention is to bring Genoa out of this situation, which is not our fault.
"But I hope that by the end of the year, or possibly earlier, someone will buy Genoa.
"Otherwise I will remain in charge because I would never abandon ship during a storm."