Serie A: Lazio's Stefano Mauri receives six-month ban for alleged match-fixing
Lazio captain Stefano Mauri has been banned for six months for alleged involvement in match-fixing.
Last Updated: 02/08/13 3:42pm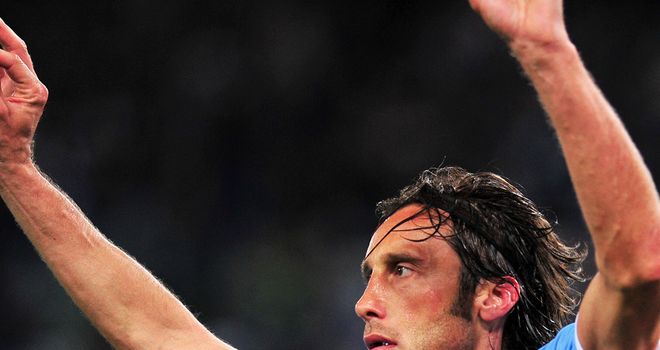 The punishment has been handed down by the disciplinary commission of the FIGC (Italian Football League) after the organisation's prosecutor initially recommended a 54-month sanction.
The accusations relate to fixing Lazio's league games against Genoa and Lecce in May 2011.
The prosecutor also requested a six-point deduction for the Rome club but that was dismissed in favour of a 40,000 euros fine. Lecce were fined 20,000 euros.
The punishments were announced in a FIGC press release.
Mauri, 33, played as Lazio beat Genoa 4-2 in Rome on May 14, 2011 and eight days later the midfielder featured in a victory by the same scoreline at Lecce.
The three clubs were subject to disciplinary action for their objective liability in the alleged actions of Mauri, Massimiliano Benassi, Mario Cassano, Stefano Ferrario, Carlo Gervasoni, Omar Milanetto, Antonio Rosati and Alessandro Zamperini.
Zamperini has been banned for two years, Ferrario six months and Cassano four months.
Mauri said:
"I'm happy that Lazio don't have to start with a points deduction, but this punishment for failing to report seems like an injustice to me.
"I will put my trust in the next steps of the justice system to put this ugly experience behind me.
"Even in this situation I will fight like a captain... my plan is to be back on the pitch with my team-mates as soon as possible.
"Thanks to all the fans who, every day, have shown me their affection and encourage me in an incredible way."