Taking a stand
Former Watford and AC Milan star Luther Blissett urged the FA to act in the John Terry race row.
Last Updated: 14/07/12 9:45am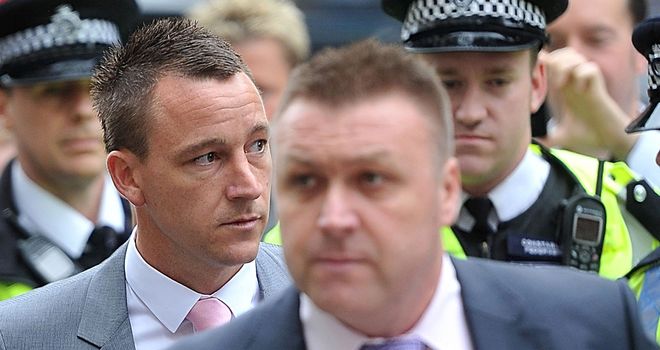 Former Watford and AC Milan striker Luther Blissett has called on the footballing authorities to send out a message after the Crown Prosecution Services acquitted John Terry of racially abusing Anton Ferdinand.
The Chelsea captain clashed with the QPR defender in October but Magistrates decided the evidence was insufficient to hit Terry with a criminal conviction.
The ruling of the court should not deter the Football Association for exacting their own punishment on the England defender, 31, according to Blissett.
He told Sky Sports News HD: "The FA has got to take it up and do the investigation they spoke about before the Crown Prosecution Service got involved.
"They've got to look at it from a different perspective because now it's not from a criminal viewpoint - it's from a sporting viewpoint. Is that sort of language allowed and acceptable on a football pitch? For me, it's not acceptable anywhere.
Gravity
"It's very important. The message has got to be out there that if you feel there's been a wrong done to you, you can come out and say so without being vilifed for doing so.
"I go to schools to talk about racism and I tell the kids that if they're being bullied or anything to do with racism, they need to say so.
"It's just one of those things we've seen happen through life when certain things turn negative, certain people turn away and think: 'Well maybe now I'm not going to get involved and I'll stay at arms length.' I think that's when you've got to show how strong you are and stand up for yourself.
"Players like myself, when we started playing, if we hadn't said 'This is not acceptable,' then we'd be where a lot of these Eastern Bloc countries are at not having addressed the situation. We have done that here.
Responsibility
"Football is just somewhere it manifests itself. In society, we know it goes on and we need to keep challenging it because if we don't and it becomes an epidemic, it's going to get far worse.
"For us, the fight definitely goes on and for me the FA have to stand up and do what's right now - just as they did for the Luis Suarez-Patrice Evra case because I thought they were brilliant through that whole thing.
"The CPS have shown that they take this seriously as well and we as people and we as players have to play our part also and do the same.
"Something always needs to be done and we're always willing to talk because we'll all be better off if we don't have to worry about what certain people will say."