David Beckham Miami MLS team has obstacles to clear, says Simon Veness
David Beckham's Miami MLS project is an exciting one - but it needs to happen soon, warns Simon Veness.
By Simon Veness
Last Updated: 08/11/13 11:03am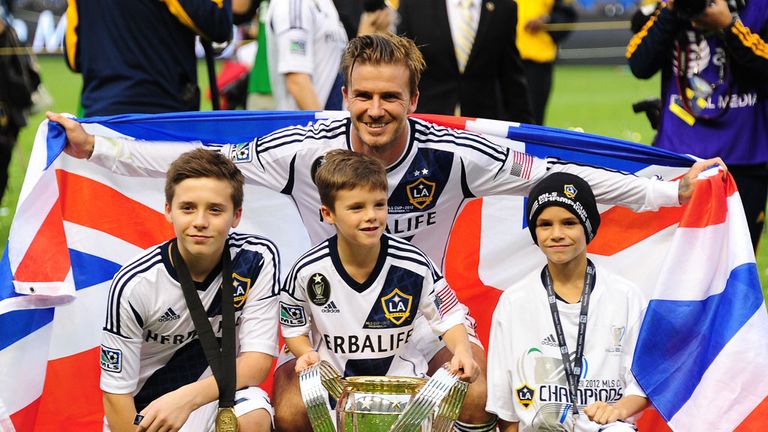 The Sunshine State's 'conurbation of cool' is at once a chic destination with a beach vibe to die for, and a Latin American melting pot where 'mañana' is a positive frenzy of activity.
Put simply, Miami is a city that won't be rushed, and that applies to its sports teams as much as its social style. And here, in the 'cruise capital of the world,' or 'America's cleanest city', according to Forbes magazine, or just 'Havana North' for its huge immigrant Cuban population, a certain David Robert Joseph Beckham, OBE, is reported to be strongly considering his next sporting steps.
It is no surprise for those who followed his MLS career at the Los Angeles Galaxy, where he definitely made a difference both on and off the field, especially when it came to how both America itself and the world in general perceived its major domestic soccer league.
When Beckham finally hung up his boots after a second successive triumphant title season last year, he left to resounding plaudits of appreciation throughout the league, from players, officials, administrators and sponsors alike.
His final flourish was being subbed in the 89th minute of the Galaxy's 3-1 win over Houston at a sellout Home Depot Center on December 1, turning to acknowledge an unashamedly partisan crowd who positively cheered their hearts out for him.
Old 'Golden Balls' had displayed a distinctly gilded touch - admittedly after a rocky start - and left with a huge reserve of goodwill, best wishes, fond memories - and a promissory note to buy the next MLS franchise at a cut-price $25million.
Considering all other expansion franchises are currently being asked to pony up at least $70million to round out the 24 teams envisaged by 2020, it is the financial bargain of the year, and the league is anxiously awaiting the next version of 'The Decision' (as the infamous pronouncement of LeBron James to "take my talents to South Beach" in 2010 is still known - and there will be more of 'King James' in due course).
As things stand today (in the midst of this season's MLS play-offs), the 19 teams will be bolstered by the arrival of New York City - underwritten by Manchester City, the New York Yankees and millions of Emirates dollars - and, imminently, by our own Orlando City here in Central Florida (if you remember this VFA column).
Both teams are expected to be fully Major League-ready for the 2015 season, which leaves three other franchises to be settled in the next few years. And, while Beckham flirts with the idea of full-time ownership in South Florida, it is no done deal - and the time is actually fast running out on the 2012 Olympic idol.
Competition
Because, while MLS will certainly not renege on its deal in any way and would be more than happy to continue their serendipitous relationship with Beckham - and yes, they have all read Sir Alex Ferguson's book, and no-one is in the least bit surprised at Fergie's comments - there are more big fish in this particular sporting sea.
Arthur Blank, the owner of the NFL's Atlanta Falcons, has already shown his hand as ready to bankroll an Atlanta soccer team, and the league has privately all but agreed terms with the Home Depot co-founder and billionaire (which is a status David certainly can't aspire to just yet).
The team would co-share in the Falcons' space-age new $1billion stadium that, apparently, would be good enough for the league to overlook their usual demand for a soccer-specific arena for all new franchises.
That makes 22 teams, for those keeping count, and there are no shortage of cities eager to join what MLS Commissioner Don Garber terms "a period of accelerated growth."
Sacramento, Detroit, Minneapolis-St Paul and Indianapolis are all among those actively sounding out the possibilities and you can see how the landscape is rapidly filling with a bunch of jostling, viable alternatives.
Three of that aforementioned quartet also have NFL franchises in their environs, and the combination of American football and soccer seems to be a promising one, notably in Seattle, Dallas, Houston and, in all likelihood, Atlanta.
History
The other factor mitigating against Beckham's bid for South Beach celebrity is the city itself. With the current exception of the Heat (which is totally fuelled by the LeBron Phenomenon), Miami is not exactly renowned for recent sporting success or, more importantly, fervent fan following.
The Dolphins haven't won anything since 1974 and boast one of the lowest attendance records in the NFL in recent years (in percentage terms - roughly 81%, second-lowest only to Cincinnati's 76%) and baseball's Marlins can't draw flies after an acrimonious stand-off with the local authorities over the building of their new stadium in 2011.
This latter has left Florida politicians EXTREMELY anti anything that involves funding for pro sports, hence any Beckham bid is going to have to have 100% private financing if it's to pass muster anywhere in the Miami metro area.
Now add in that uber-laid-back attitude I mentioned at the start, which affects not just the mind-set of the fans but the officials who will need to agree whatever deal the Beckham group proposes, and you have a potentially disastrous scenario in terms of the time-scale involved.
According to my sources, the terms of Beckham's $25m cut-price franchise deal is that he must present a concrete proposal within a year of leaving his playing days behind. His MLS playing days, that is, not the extended little cameo period he had with Paris St Germain. That means the countdown is on, and there is a distinct lack of immediate resolution for anything in South Florida.
Oh, and did I mention big-league soccer has already failed in Miami once before? The Fusion were in existence from 1998-2001 - a scant four seasons - before local apathy put paid to that idea, with Garber revealing, "the team had the lowest revenue in the league, due to fewer season tickets and almost no revenue from corporate sponsorships." Not exactly an encouraging scenario.
The advent of a name like Sir David of Beckham, of course, would be a singular boost in terms of profile and marketing. The old Fusion had nothing to compare with that kind of name power, and playing in a high school stadium in nearby Fort Lauderdale was also a recipe for anything other than success.
Any new team would be firmly Miami based and branded, and you can be pretty sure Beckham and his partners would make full use of tie-ups with the likes of LeBron James and any Dolphins player who manages to survive the current Richie Incognito scandal (and that is a whole 'nother story, as they say around here).
Rivals
But it does leave us also with the question of who, exactly, Beckham would ally his fortunes with in any putative soccer franchise, as he's certainly going to need some serious financial muscle behind his own 25 mill.
Bolivian billionaire Marcelo Claure was first in the ring back in June, but things have gone quiet on that front, according to the Miami Herald, hence he is now talking to other potential investors (and anyone else keen to place $100m into a new stadium).
There is even talk of a rival bid for Miami, being undertaken by Italian businessman Alessandro Butini, which could torpedo any Beckham franchise if it were to demonstrate the necessary stadium funding first. Of course, Becks and Butini could yet get together (as could Beckham and James, according to the local hype machine), but the bottom line remains that absolutely nothing is signed, sealed or delivered.
And how would a Beckham-owned Miami franchise go down with the good folks of Orlando City, who are in danger of being totally overshadowed by events 210 miles to the south?
"We'd absolutely love it," Lions president Phil Rawlins told me. "What better way to kick-off MLS in the south-east than with an instant Florida rivalry? I'm sure the league would love it, too, and it could be good for soccer in our corner of the world."
So there you have it. Everyone's waiting for it, the stars are aligning, and the Beckham coffers distinctly stand to benefit from it. But the clock is ticking - and the alarm will go off if we don't hear anything in the next few weeks.