Get in the Fantasy mix
Pick your all-star Premier League XI and play Sky Sports' free-to-enter game
Last Updated: 17/07/12 9:30am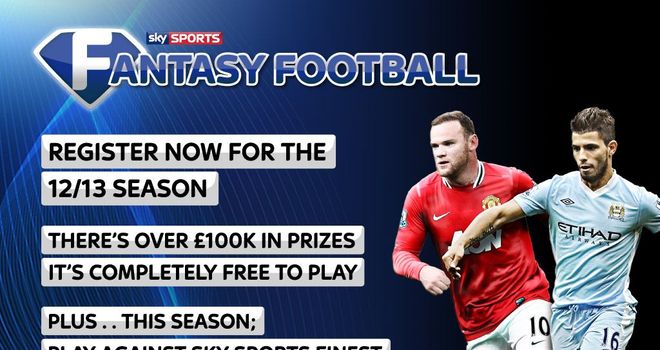 Calling all budding football managers, here's your chance to compete in the new season of Sky Sports Fantasy Football.
The free-to-play game gives you the chance to take charge of two Fantasy teams in the race to compete for £100,000 worth of prizes.
Here's a few pointers to help you get started if you are new to Sky Sports Fantasy Football.
To create a team click here and use the Player List to the right of the pitch to make your selections.
For each team you have an imaginary budget of £75million. You can select one of the following formations 4-4-2, 4-3-3, 5-3-2, 3-5-2 or 4-5-1.
Once you have you picked your team you then need to create a suitable name. If after picking your 11 you still want to make a change you can make unlimited transfers from now until the start of the new Barclays Premier League season on August 18. You can make transfers by clicking My Team then Make Transfers.
Once you've got your team sorted why not set up a league (Just click Leagues) with your mates, work colleagues or family to see who can claim the crown as Fantasy Football champion. You are able to enter three regular leagues, two private leagues and unlimited Sky Sports leagues.
There will also be plenty of opportunity to pit you managerial wits against some of Sky Sports finest talent in the soon to be launched Public Show Leagues.
Why not join the conversation on Twitter by following us on @skyfantasyfooty and like our Facebook page - Sky Sports Fantasy Football.