Day set for Spurs mission
Stevenage goalkeeper Chris Day has had to wait 17 years to get his opportunity to play against Tottenham.
By Razwan Mirza
Last Updated: 18/02/12 1:17pm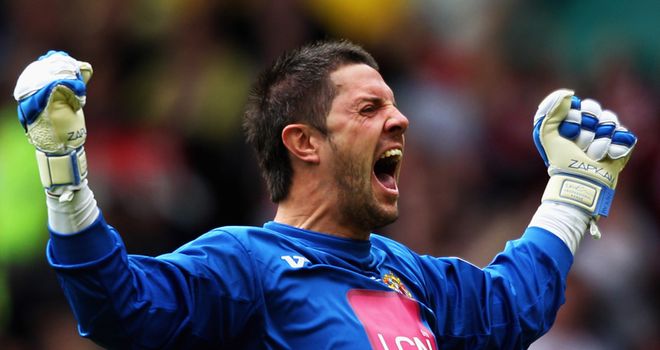 Chris Day has had to wait 17 years to get his opportunity to play against Tottenham and now the Stevenage goalkeeper will get his chance when the teams meet in the FA Cup fifth round on Sunday.
Day turned out as a 19-year-old for Spurs in the InterToto Cup back in the summer of 1994 and is forever in the White Hart Lane history books as being involved in their worst ever defeat - an 8-0 thumping against Bundesliga giants Cologne in Germany.
The shot-stopper soon moved onto Crystal Palace without getting much of a chance with the North London outfit, but now Day is relishing the opportunity to face his former club at the tender age of 36.
The League One play-off contenders go into the clash as massive underdogs, but Day is sure that the Lamex Stadium will be jumping by the time the tie gets underway.
Shock
He told The Daily Express: "It was just a bit of a shock when we turned up in Cologne. I had Bodo Ilgner, the German goalkeeper from the World Cups in 1990 and 1994, telling me I was warming up at the wrong end. I think they had 14 World Cup players against a bunch of 18 and 19-year-olds and some lads who were coming towards the end of their careers.
"I actually had a half-decent game but they were just a class apart. It was Tottenham reserves against World Cup players.
"Sunday is a big game. I have waited all my career to play against the team I support. I would love to go to White Hart Lane for a replay but realistically, if we are going to beat them, it will probably be at our place."
Upset
Meanwhile, manager Gary Smith insists The Boro can cause a major upset against Harry Redknapp's high-fliers.
"Here we have the FA Cup, one of the greatest cup competitions in the world, so to be part of it now and to be in the last 16 is a wonderful achievement and one I hope we can all look back on with pride come Sunday evening.
"Upsets are a big part of the FA Cup. It could happen and the best opportunity is here at home."