Adebayor - Take the opportunity
Emmanuel Adebayor is urging his Spurs team-mates to make the most of their opportunity in the FA Cup semi-final.
By Murray Burnell
Last Updated: 12/04/12 12:57pm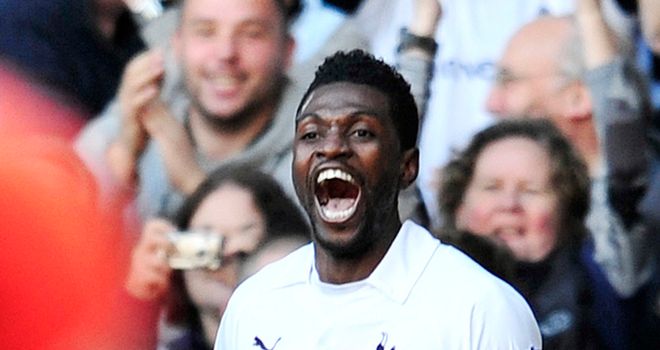 Emmanuel Adebayor is urging his Tottenham team-mates to make the most of their opportunity in the FA Cup semi-final against Chelsea on Sunday.
Spurs and the Blues lock horns at Wembley as Tottenham look to reach their first FA Cup final for 21 years.
The two sides are also battling for a Champions League place in the Premier League, with Harry Redknapp's side currently in the all-important fourth place due to goal difference over Newcastle, while being two points above Chelsea.
But the North London club are out of form going into the clash, having lost at home to Norwich in their last game, and have won just once in their last eight Premier League outings.
But the Togo international believes his colleagues need to appreciate their position in the competition and ensure they play to their best.
Chance
He told the club's official website: "We've had some difficult moments but this is the chance to beat Chelsea and to be in the final of the FA Cup.
"We have to keep going, keep believing and tell ourselves, yes, we can win the FA Cup and that we have a great chance in the semi-final against Chelsea.
"This is a big London derby and we have to do it for our fans.
"They have been great throughout the season. Even in the difficult moments, they are there singing, praising us and now we have to do that to make everyone happy.
"Wembley is a great stadium, it's a big occasion and I'm sure a lot of clubs would like to be there in our place. We have to grab our chance."