Carragher out to enjoy Wembley
Jamie Carragher intends to enjoy Saturday's FA Cup final as he admits he does not know how many big matches he has left.
Last Updated: 03/05/12 5:50pm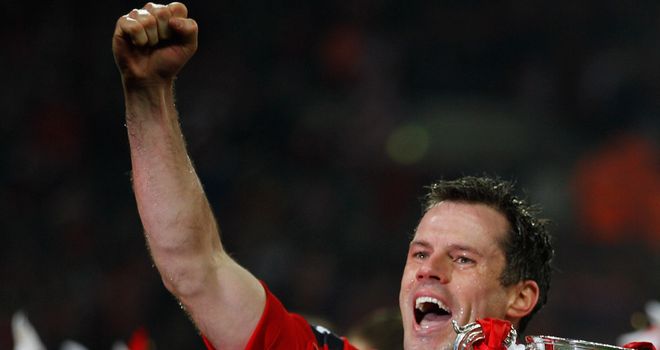 Jamie Carragher intends to enjoy Saturday's FA Cup final as he admits he does not know how many big matches he has left.
The 34-year-old defender is part of the Liverpool squad preparing to face Chelsea at the weekend.
And despite having made 696 appearances for the Reds, Carragher has lost his regular place in the starting line-up this season due to the form of Martin Skrtel and Daniel Agger.
After coming to terms with his new squad role at the club, the Bootle-born player intends to enjoy the occasion - whether he is involved or not.
"Realistically there is not much time left for me," said Carragher. "You always have that fear it might be your last (final).
"When you get to the stage of my career (that I am at) you always think 'Will I ever get a chance to play in this kind of game again?'
"From a personal point of view, because of my age and situation, it probably does feel a little more important or special because I may not see many of these days again.
"It makes it even more important even though we've played plenty of these games before."
Left out
Carragher was left out of the starting line-up for February's Carling Cup final in which Liverpool beat Cardiff on penalties.
However, he did come off the bench four minutes before the end of normal time and memorably walked up the Wembley steps accompanied by his son James for the trophy presentation.
And the Reds stalwart is comfortable with whatever role he gets to play on Saturday.
"I have got to the stage where if I play - great - if I don't then I understand it now because I've missed more games this season than I have before," he added.
"I have got my head around it a bit more. I was on the bench in the last cup final and got on in the end.
"I don't think I have to do anything differently to the rest of my time with Liverpool - just train the way I train.
Respect
"If you play, great; if you don't, support the lads and respect the manager's decision.
"We all win together. It doesn't matter who plays, who's on the bench, who comes on.
"If we win, it'll say Liverpool won. We're all part of the club and that is what we want.
"The main thing for us is winning - if you are on the bench you still get a medal."
But Carragher insists he will not be joined by his son if Liverpool win on Saturday, claiming it is Steven Gerrard's turn to make it a family occasion.
"You do it once and it is great but I think it is Stevie's turn. It would be great for one of his kids," he said.