Pardew expects tough tie
Alan Pardew is expecting a tough Carling Cup tie against Blackburn on Wednesday, keeping his team selection a mystery.
By Matthew Skinns
Last Updated: 25/10/11 3:39pm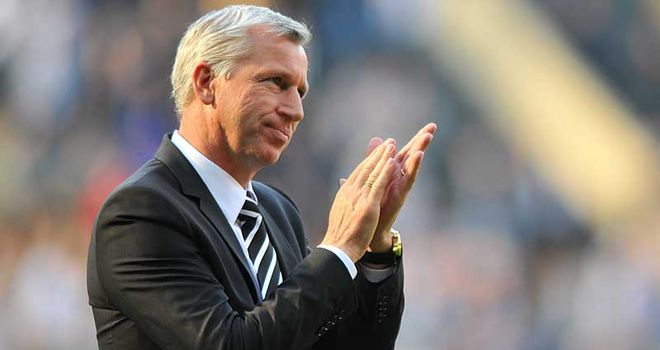 Newcastle manager Alan Pardew remains secretive over his team selection ahead of Wednesday's Carling Cup tie at Blackburn but is determined to win.
The Magpies boss has retained the same starting line-up in the past five games but injuries sustained by Cheick Tiote and Steven Taylor in the 1-0 win over Wigan will force Pardew into making at least one change.
Pardew has stated his intentions to challenge for silverware this season, believing the club's unbeaten start to the Premier League season gives them the foundation they need to progress.
"You can only strive for them if you've got success in the Premier League, because the stability of the football club depends on the stability in the Premier League," said Pardew.
"Fortunately for us we have 19 points so that's an outstanding effort by the team and it gives us a good situation.
"My team selection will be very much what I think is needed for that game."
Pardew backed bottom of the table Blackburn to pose a tough test for his side, voicing support for under-fire manager Steve Kean and also Wolves boss Mick McCarthy.
"I know Steve Kean, I've worked with Steve Kean, and this is a good professional person in terms of being in charge of a football club," he said.
"He's having a tough time with the home fans and that makes it tough for the team, so it's a tough agenda for them. But it's not something they can't come through.
"As Mick McCarthy proved with Wolves at the weekend, sometimes just one little thing can change the whole dynamics of something.
"I expect Wolves and Mick to kick on from that and that's what Steve Kean will be looking for; just something to grab hold of and to kick on from.
"I think it's very important that they get a result so I think they'll be very strong.
"It's a cup tie and at the level we're playing at, there's going to be nothing between us so it's about desire and, on the night, making sure you do your job to the best of your ability - and hopefully win the game.
"They have an advantage. They're the home side; penalties, extra time would be on their pitch, so it's a tough game for us."