Capital calls
Peter Beagrie and Chris Coleman answer the key questions ahead of the Capital One Cup final.
Last Updated: 22/02/13 3:51pm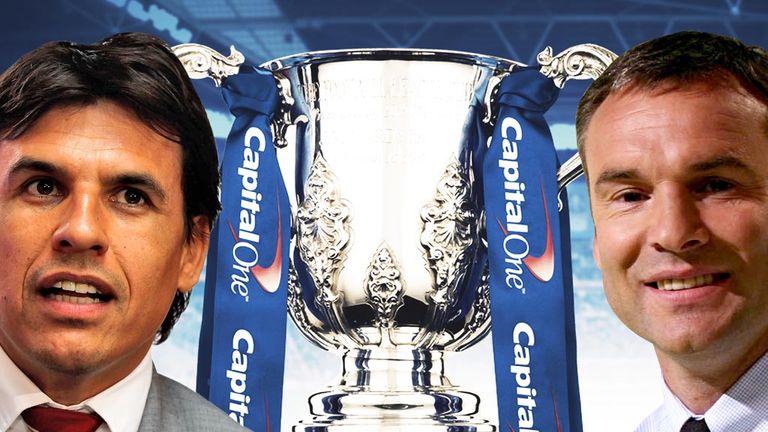 All eyes will be on Wembley on Sunday for a Capital One Cup final that few would have predicted at the start of the season.
League Two Bradford, courtesy of stunning victories over Wigan, Arsenal and Aston Villa, will battle a Swansea side contesting the first major final in their 101-year history.
Both outfits have experienced strife in recent times - the Bantams have sunk through the divisions since relegation from the top flight in 2001, while the Swans almost slipped out of the Football League a decade ago, prior to their dramatic ascent up the pyramid.
But which team will be celebrating on Sunday?
We pitched that question to former Bradford winger Peter Beagrie and Wales manager and ex-Swansea centre-back Chris Coleman, who will both be part of the Sky Sports punditry team at the big game.
Read on for the boys' predictions, as well as their take on respective managers Phil Parkinson and Michael Laudrup and what victory at Wembley would mean for their club on Sunday afternoon...
This will be a great day for both Bradford and Swansea, but the clubs have experienced tough times in the recent past, haven't they? Share your memories of those days.
BEAGS SAYS: Bradford defied the odds to make the Premier League but endured some very dark days when they were relegated from it. Chairman Geoffrey Richmond wanted to put the club on the map and establish the Bantams as a Premier League force, but his heavy spending on the likes of David Hopkin, Dan Petrescu and Ashley Ward, in what he himself called "six weeks of madness", backfired and City dropped into League Two and are still paying the cost to this day. Leeds' fall from Champions League semi-finals to the third tier may have been more publicised, but Bradford's demise was just as dramatic and painful for the supporters.
CHRIS SAYS: I look back to my days at Swansea when I joined in 1997 and some days we would go to training and we didn't have enough training kit and we never had a training ground; it was incredible. The club had just come out of liquidation, we were in the bottom division and we were getting crowds of 3,000. Swansea City Football Club is unrecognisable from then to now, it really is. Now they are in the top 10 of the Premier League and they've got a great chance to win one of the major cup competitions.
How much would it mean and how important is it for Bradford and Swansea to win silverware?
BEAGS SAYS: It is not important for Bradford to win - they have already won by getting to the final and securing their financial future - but it will be important for the players; they won't be happy with losing at Wembley, even though they are big underdogs, because they have fought past so many Premier League obstacles to get there. It would mean the world for the fans and people behind the scenes if Bradford lifted the cup, though. The Rhodes family, never in the forefront of the media, have put millions upon millions of pounds into the club, and along with chairman Mark Lawn (above) have revived it, putting inventive ticket schemes in place to ensure that a 25,000-seater stadium (Valley Parade) did not become a white elephant and is now always at least half full. So while this run is testament to the players' hard work, it is more of a reward for the guys in the boardroom whose passion has brought the club off its knees and the fans who have stuck by the Bantams through thick and thin.
CHRIS SAYS: I remember seeing Swansea win the Football League Trophy in 2006 and they've been in the play-offs, but this is something different because the Capital One Cup is one of the major cup competitions and they've got a huge chance of doing something they have never done by winning it. This is a huge, huge day for the club. [Chairman] Huw Jenkins and [director] Martin Morgan have been involved for 10 years and when they took over there were no guarantees what might happen. Everybody knows that in football if you invest your money then you can't know what is going to happen, but these guys have backed themselves, backed the club and have had a long-term strategy. They've stuck to that plan and they're reaping the rewards - and they deserve it.
How big a role have managers Phil Parkinson and Michael Laudrup played this season?
BEAGS SAYS: Phil has brought in experienced players; not ones that are there for one last pay-day but guys who have the passion and drive to lead the team forward. 35-year-old Gary Jones, who, ironically, used to play for Swansea, has been a revelation since he arrived in the summer, but Phil has also drafted in real quality and athleticism in players like Zavon Hines, and created a well-balanced squad, the best one that Bradford have had in recent years. Phil is also a big disciplinarian and beyond his calm exterior lies a man who doesn't suffer fools gladly, while he has a good footballing brain and understanding of the game, which was evident when, after being outplayed and too defensively minded in the first period of their semi-final second leg against Aston Villa, he got the boys in at halftime and told them to be braver - and they went on to secure their passage into the final.
CHRIS SAYS: Jenkins, Morgan and the likes have been very clever in terms of bringing in managers. Whenever they've lost a manager, the next one they've brought in has kept the same philosophy and the same style of play, and I think that's a model that other clubs should follow. Michael (above) has done a great job, he really has. He's a good guy and he's really down to earth and realistic about what he can do with Swansea. He's a very calm character and he's got them playing very well, in a patient, continental style. It's Barcelona-esque, but they do get the ball forward quicker at times during the game than they did under Brendan Rodgers. They still have a patience about their play, but they don't keep it as long at the back and they have more of a cutting edge with Michu in the team. It's worked well for them and I hope Michael keeps it going the for the rest of the season.
What are your underlying memories of the cup run so far?
BEAGS SAYS: It's a run that has had everything. Bradford had to rely on a lot of luck when they encountered Wigan in the fourth round - when Roberto Martinez's side had about 30 shots on goals - and Arsenal and Aston Villa beyond that, where this amazing ride could have come to an end. They have been grateful for Matt Duke in goal during the many penalty shoot-outs they have won, but as a team they have handed pressurised situations brilliantly, kept in games, and made changes when things weren't working. The run has also been a real community affair, with Bradford captain Jones kissing the head of nine-year-old Bantams supporter Jake Turton, who has defied the odds to beat a brain tumour after once being given six days to live, when City had beaten Villa. This run has been about more than football.
CHRIS SAYS:
I've been very impressed with Swansea. They beat Liverpool in one of the earlier rounds and I think it was a sign of how far they've come that they could go to Stamford Bridge and win a semi-final. Michael got it tactically spot on that night against Chelsea; they defended deep and were very quick on the counter-attack. When you've got Michu up front who can score a goal then you've always got half a chance and those excellent tactics got them a 2-0 win. In the return leg at Swansea they thoroughly deserved the 0-0 draw; it wasn't like they were hanging on and it could have gone either way. They could have in fact gone on to win that match, so I've been very impressed with them.
Which players must shine if Bradford or Swansea are to win?
BEAGS SAYS: Duke is probably going to have to have a blinder in goal, while if defender Rory McArdle fails to overcome an ankle injury in time for the game, the experienced former Middlesbrough and Stoke centre-back Andrew Davies will be charged with stopping Messrs Michu, Routledge and De Guzman. But if Bradford are going to trump Swansea they will have play with an intensity and swarm all over Laudrup's men and try to stop their fluent passing game, so Jones and Nathan Doyle in central midfield, the leaders, organisers and talkers, will have to dominate. Plus, 'man beast' James Hanson must try to ruffle the feathers of Swansea centre-half Ashley Williams, who is a terrific footballer but not the biggest, and combine well with fellow frontman Nahki Wells.
CHRIS SAYS: Michu is always going to come into play because of his goals; he has that ability to pop up in a position where the opposition aren't expecting him to and he arrives in the box just at the right time and is a very good finisher. The wide guys may be Wayne Routledge, Pablo Hernandez or Nathan Dyer, but they won't play wide a lot offensively. They will come inside and allow the full-backs to make the width up; the timing of that rotation is very important and when that clicks they are very difficult to defend against. Leon Britton (above) is probably my favourite player in the Premier League, certainly my favourite midfield player. I've said it before, but what he gives to Swansea is what Xavi gives to Barcelona; he's the engine room, he's patient, he's very brave in possession and he's a terrific little player. When he's on his game and Swansea have got their rhythm and free-flowing passing going then they don't lose a lot of games.
What is your prediction for the game?
BEAGS SAYS: Swansea will have more of the ball but if Bradford can close them down, relieve the pressure on their own back four and get the wide-men such as Hine into play - a ploy that worked excellently against Arsenal - they could have some joy on the big Wembley pitch, especially if enough assists are created for Wells, who can run in behind and fashion a chance. Can Bradford do it? Yes. Will they? Unlikely at best. My only wish is that the players don't embarrass themselves in terms of the scoreline - because they won't in terms of effort - and that if Bradford do lose the match, it is not decided by a mistake from one of the Bantams players but by a moment of quality from Swansea. I would just like to give a special mention to cup sponsors Capital One, too, who have allowed 2,000 Bradford and Swansea supporters the opportunity to travel to the final for nothing by way of a combined 42 coaches, and for the first time in the cup's history, ensured the Man of the Match award will be handed out by a fan of that player's club. I just hope that the prize is dished out to Bradford striker Wells (above) for netting a match-winning hat-trick!
CHRIS SAYS: I'm not discounting Bradford, who have done unbelievably well and I think it will be a tough game. However, Wembley is a big pitch - and a fantastic pitch - and I think that could suit Swansea. I imagine Bradford will start at a high tempo, as we saw against Aston Villa and Arsenal, and Parkinson has got them very well organised to close the opposition down early, but it's difficult in a final at Wembley. How long can you run like that for? The opening of the game will be tight and if Bradford manage to get a goal it will be tough for Swansea, but I think when Swansea get into their rhythm they wear teams down. If it gets to the last 20 minutes and they haven't scored, they are not afraid to stick to their philosophy. They will keep passing, keep moving the opposition around and their opponents get tired in the last third of games. It will be interesting to see how it pans out, but you've got to fancy Swansea. They're a Premier League team and they've had a great year - but don't write off Bradford who are very dangerous offensively and have got goals in them. They'll be organised and will be up for this final. Anything can happen!