Fowler's blessing
Liverpool legend Robbie Fowler told Soccer AM Brendan Rodgers must be given time to settle.
Last Updated: 22/09/12 1:43pm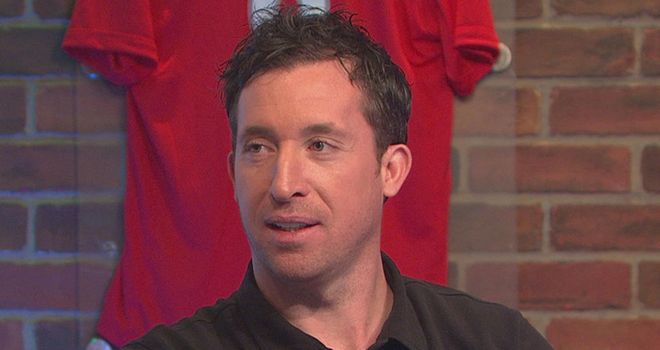 Legendary Liverpool striker Robbie Fowler is sure Reds boss Brendan Rodgers will overcome a poor start to life in the Anfield hot seat and guide the club to great things.
The 37-year-old notched an incredible 183 goals for the Reds during a glittering career, and is confident his former employers will soon see the benefits of Rodgers' footballing nous.
He told Soccer AM: "I love Kenny Dalglish and I wanted him to stay. I actually thought he did a good job last year but the owners can do what they want - it's their club. Brendan is a fantastic manager and I've been very impressed with what he's doing on the training pitch.
"I know it's been a tough start for him but I know for a fact that he'll get it right because I think he's that good.
"I don't know who's criticising him but I think it's stupid. He's had a tough start but the way he wants to play and his philosophy is fantastic and for a Liverpool supporter to hear the things he's saying is music to their ears.
"You want Liverpool to be up the top and fighting for everything but it's very early days. As a player, you don't look at the table just yet. You want them to be top but with a new manager coming in, they're not going to get the results straight away."
Occasion
Liverpool face old foes Manchester United at Anfield in an emotional Super Sunday clash this weekend, and Fowler is hopeful that the fears surrounding away fans' reaction to the scheduled Hillsborough tributes will prove unfounded.
He said: "The bigger the games, the more the players want to play them. At the start of the season, we'd always look for the Everton games and especially for the Manchester United games.
"Tomorrow is a massive game and we just want it to go without any problems. I'm sure both sets of fans will respect eachother and let's just hope that all the concentration is on what happens on the pitch.
"As a player, you're focused on what you're trying to do in that game. I can't speak for anyone else but it didn't effect me.
"There've been a lot of clubs making touching tributes lately and Everton's on Monday night was just phenomenal.
"Liverpool always do fantastically against Manchester United and there's probably a little bit of bias there too, but I'm going for a 2-1 Liverpool win tomorrow."
Future
Having left Liverpool for the second time in 2007, Fowler has continued his playing days at a variety of clubs - with Cardiff City and Blackburn ports of call before venturing to Australia to try his luck in the A-League.
Spells with North Queensland Fury and Perth Glory followed, and last season he was scoring goals for Thai side Muangthong United before returning home to join Sky Sports as a pundit.
Fowler said of his future: "I'm not officially retired (from playing) but I haven't had many calls! One or two... They're not bad offers - some half-decent offers. I'm officially retired from international duty though!
"I'm enjoy punditry. It keeps me involved in watching football. It's not the same as playing it but it's nice to be involved. It's hard because people are talking in your ear when you're trying to talk. Every game I've had, it always seems to be a 0-0! I think the more you do it, the better you become. That's what I'm hoping anyway."