Team mates - Smalling
Man Utd defender Chris Smalling gives Soccer AM the inside scoop on his Old Trafford pals.
Last Updated: 08/12/12 5:56pm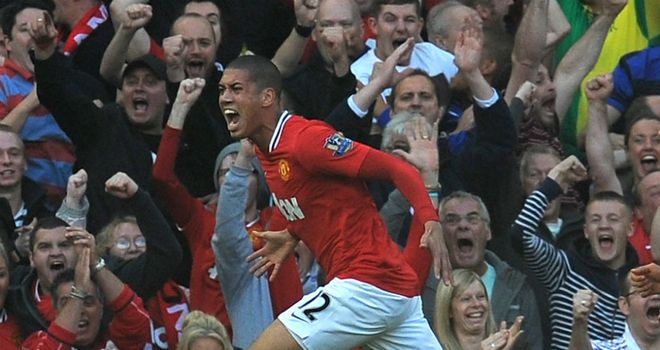 Chris Smalling spills the beans on his United team-mates:
BEST TRAINER: Pauls Scholes. At his age he could rest on his laurels but he's out there and he's kicking a few people as well. He's a class act.
MOST SKILFUL: Nani. He's often doing his tricks in a game but he loves to do it in training and more often than not it comes off.
HARDEST SHOT: Scholesy. Whether it's on the floor, volley, half-volley, you don't want to be getting in the way of that.
WORST DANCER: Anders Lindegaard. He's got too much rhythm going on. He tries, bless him.
WORST DRESS SENSE: It's a bit harsh because he's a young lad but Nick Powell. He just wakes up, gets out of bed and puts on whatever's on the floor. I'm sure he'll learn.
WORST TASTE IN MUSIC: David De Gea. Sometimes when we're on the coach and he's got his headphones on they're blazing out and I just can't understand what it is. He's into his rock. It's not for my ears.
FUTURE MANAGER: Darren Fletcher and Jonny Evans. They seem pretty switched on and pretty sensible and I think one day they could be managers if they wanted to.
THE JOKER: Wazza. Rio is up there as well but I'd go with Wazza. Whether it's a good joke or an old joke, he's generally behind it.
SUPERSTITIONS: I always put my left sock on over my right and tend to train in normal socks then cut my playing socks and tape them over. Just something I like to do.
AND... WHO'S THE LONGEST IN THE SHOWER: Patrice.