World Cup: Croatia defender Josip Simunic loses ban appeal
Croatia defender Josip Simunic will definitely miss the World Cup after losing his appeal against a 10-match ban.
Last Updated: 12/05/14 3:08pm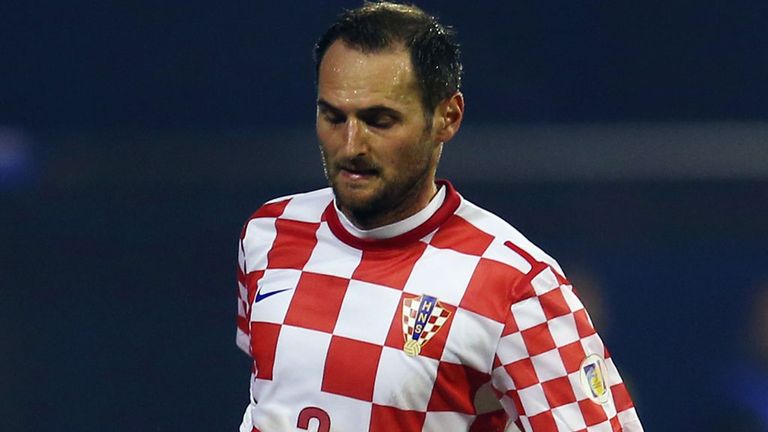 The 36-year-old appealed to the Court of Arbitration for Sport following the announcement of his lengthy suspension, which was accompanied by a fine of £20,700.
He was punished by world football's governing body after being captured on video using a microphone to lead chants which were found to have associations with Croatia's former pro-Nazi Ustase regime following his country's World Cup qualifying play-off victory over Iceland in Zagreb on November 19.
Croatia face hosts Brazil, Mexico and Cameroon in Group A at the finals, but Dinamo Zagreb captain Simunic is banned from entering the stadium for any of those games - or for any further games should the nation progress.
A statement released by CAS read: "The Court of Arbitration for Sport (CAS) has rejected the appeal filed by the Croatian football player Josip Simunic against the decision of the FIFA Appeal Committee issued on 21 February 2014.
"The CAS confirmed the sanction imposed by FIFA against the player, who remains suspended for 10 official matches, the first of which has to be served during the final competition of the 2014 FIFA World Cup, banned from entering the confines of the stadiums for those 10 matches and also fined 30,000 Swiss francs."
FIFA welcomed the CAS ruling, saying in a statement: "With this decision, FIFA considers that CAS gives a clear and strong support to FIFA's efforts in stamping out racism in football.
"FIFA's firm zero-tolerance stance against any form of discrimination and racism is enshrined in its statutes in article 3 and further developed, among other Regulations, in the FIFA Disciplinary Code.
"The resolution on the fight against racism and discrimination, which was approved at the FIFA Congress in May 2013, advocates the need for strict punishments to send out a strong message that discrimination has no place in the game."