Bilek wants Czech mates
Michal Bilek believes that gaining the support of the fans could help the Czech Republic progress further in Euro 2012.
By Rebecca Stephenson
Last Updated: 17/06/12 7:41pm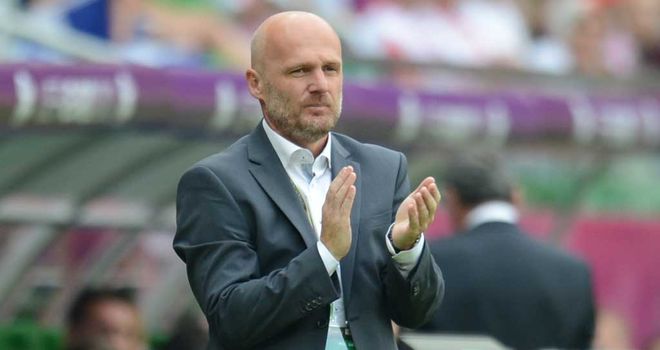 Michal Bilek believes that gaining the support of the fans could help the Czech Republic progress in Euro 2012 after qualifying for the quarter-finals.
The Czech Republic coach has been much maligned in his home nation since taking charge of the national side in 2009. They failed to qualify for the World Cup in 2010 and only made this tournament with a play-off victory over Montenegro.
But Bilek now hopes they can use the experience of facing adversity to make them stronger, pointing to the resilience his side have shown to bounce back from the 4-1 opening day defeat to Russia.
"We've been under constant pressure. This may have been our advantage on Saturday," the coach said.
"I can feel a healthy spirit and the desire to put up a good fight in the games we are facing.
"In the last two-and-a-half years, we have always managed to overcome the critical moments, and there have been quite a few.
"We found ourselves under huge pressure all the time, the players always fought and beat the crises, and in the hard games they showed huge moral strength.
Unpleasant
"When your own fans whistle at you, it's unpleasant, but it has been going on for a long time so I've got used to it.
"Many fans stopped believing in us after the first game but the boys deserved this, they have played like a team.
"Yesterday brought relief to everyone, we can feel the fans' discontent vanish. We showed the team can win tough battles, and I believe they're on our side now.
"I know we will achieve a change in attitude only with a sequence of good results."
If they are to continue a sequence in this tournament they will need to overcome the runner up from Group B between Germany, Denmark, Portugal and Holland. Whoever they play will provide a stern test but Bilek is determined to keep the positivity going.
Medal
"We want to win at least one more game. If we make it, we'll have a medal," the 47-year-old stated.
"The euphoria was for yesterday. Now we have a new goal - to advance from the quarter-finals.
"It's hard to choose one. But I'd rather avoid facing Germany, they look very relaxed here. Denmark looks the most acceptable, but they are in an excellent shape too."