Czech Republic deny Arsenal's Tomas Rosicky is to quit international football
Czech Republic general manager Vladimir Smicer has denied that Tomas Rosicky is retiring from international football.
By Vasek Kadlec
Last Updated: 04/10/12 2:02pm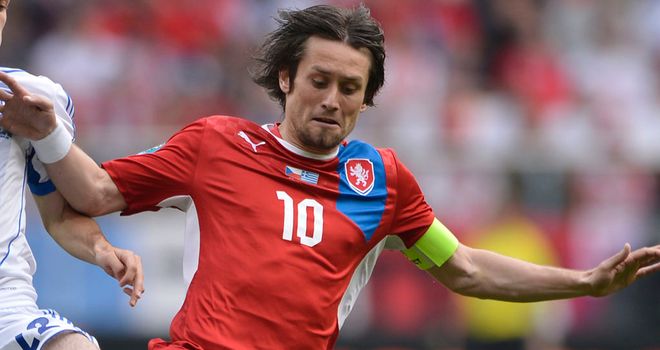 Rosicky is currently on the sidelines as he recovers from an Achilles operation he underwent in the summer after suffering the problem during Euro 2012.
The 32-year-old is still a few weeks away from returning to action and he will again miss out on the upcoming World Cup qualifiers against Malta and Bulgaria later this month.
It had been suggested in some quarters that Rosicky may quit the international scene in a bid to prolong his Arsenal career, but Smicer has denied that the former Borussia Dortmund man is contemplating such a move.
"Tomas wants to see through this qualification and get the job done," Smicer told isport.blesk.cz. "He is lured by the prospect of playing the World Cup finals in Brazil."
Smicer was asked if he thought there might be some pressure from Arsenal on Rosicky to decide not to continue in playing for his country.
"It may happen and Arsene Wenger may try it," Smicer admitted.
Smicer admits Rosicky is hoping to make his return for Arsenal in the next few weeks as he steps up his bid for fitness.
"He has not been in a sharp fixture for two or three months now, so he has to ease the training burden for one or two days so that his body gets used gradually.
"He told me he would be glad if he was in contention for a match within two or three weeks if everything goes well."