Euro star
Sky Sports considers whether Miroslav Klose did enough against Greece to stay in the Germany team.
Last Updated: 22/06/12 10:38pm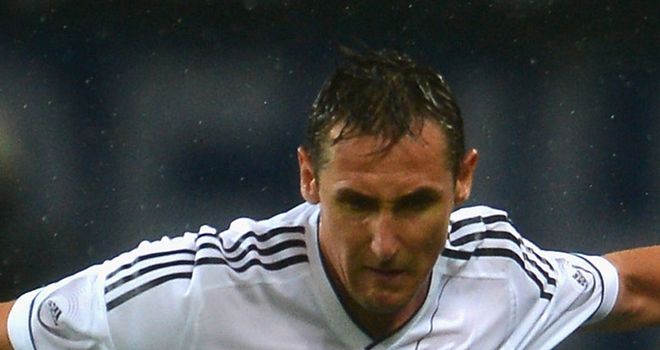 Joachim Low sprung a surprise with his team selection for the quarter-final against Greece by completely overhauling his forward line and recalling veteran striker Miroslav Klose to lead the attack ahead of speedy wide men Marco Reus and Andre Schurrle.
Low's strategy was vindicated as his team ran out emphatic 4-2 winners, and it will now be interesting to see whether he restores Mario Gomez, Lukas Podolski and Thomas Muller to the starting line-up for the last-four clash with Italy or England.
Reus and Schurrle will have gained valuable experience regardless of whether or not they stay in the team but for Klose this was a chance to stake a claim and remind Low that at the business end of a tournament a wise old head can be an extremely valuable asset.
For much of the game it did not quite happen for Klose against the Greeks as others such as Philipp Lahm and Sami Khedira stepped up to take their place in the limelight.
While he was neat and tidy in possession and posed a threat in the crowded Greece area with the type of movement that has always come naturally, his legs are now 34-years-old and not quite as responsive as they once were.
A few years ago the mis-hit shot that was flashed across goal in the early stages by Reus would have been swept in at the back post but on this occasion Klose could not quite manage to reach despite stretching every sinew of his body.
Reap the rewards
There were also a couple of moments when he picked the wrong choice and went for a shot rather than a cross, or vice-versa, but he kept putting himself in the right position and eventually reaped the rewards with a 17th goal at a major finals.
Predictably, as with nine of his previous 16 tournament goals, it was a header, and there can be few strikers with such aerial prowess as Klose as he demonstrated perfect timing to leap above his defender and the goalkeeper to power home from close range.
It was his 64th goal in total for Germany, from 120 appearances, and he now stands just four adrift of Gerd Muller's all-time record for the country with some time left to add to his tally.
He may be coming towards the end of his career but big games have always brought the best out of Klose and his performance against Greece may just have been good enough for Low to decide that he has a role to play in the semi-finals.