UEFA continues proceedings
The Polish Football Association and the Football Union of Russia are the subject of UEFA disciplinary proceedings.
Last Updated: 13/06/12 7:42pm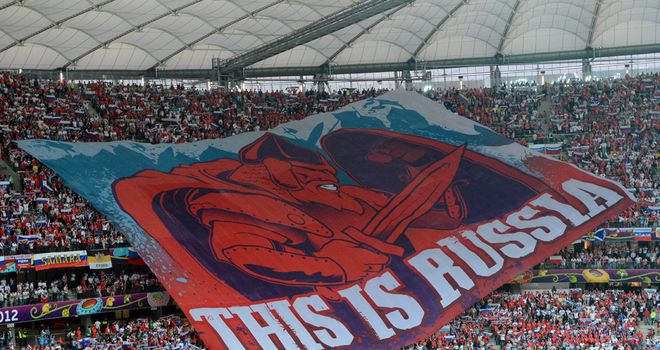 The Polish Football Association and the Football Union of Russia are the subject of UEFA disciplinary proceedings following incidents during their Euro 2012 Group A match in Warsaw.
The Football Union of Russia (RFS) has already been fined €120,000 (£96,761) for the violent, offensive and unsafe conduct of their supporters during their opening Euro 2012 Group A match against Czech Republic on Friday.
Russia's national team will also spend the next three-and-a-half years playing under the threat of a six-point deduction for their 2016 European Championship qualifying campaign after being hit with a suspended sentence.
But it got worse for the RFS on Wednesday evening when UEFA opened disciplinary proceedings against the governing body over the behaviour of their fans in Tuesday's game against co-hosts Poland.
And there could be further sanctions to come, with UEFA confirming it is still investigating allegations Czech defender Theodor Gebre Selassie was subjected to monkey chanting in Friday's match.
'illicit banner'
An 'illicit banner' at the match against Poland has also landed the RFS in hot water, with fans inside the National Stadium in Warsaw displaying a giant 'This is Russia' flag, something that could be deemed to relate to the decades of Moscow control over Poland during the Cold War.
UEFA, which also opened proceedings against the co-hosts, said in a statement on Wednesday: "UEFA has opened disciplinary proceedings against the Polish Football Association (PZPN) for setting off fireworks at last night's UEFA Euro 2012 Group A match against Russia in Warsaw.
"Disciplinary proceedings have also been opened against the Football Union of Russia (RFS) for setting off and throwing fireworks, displaying illicit banners and the invasion of the pitch by a supporter."
UEFA said the incidents would not impact on Russia's suspended six-point deduction and that the new cases would be dealt with on Sunday.
The build-up to Tuesday night's match was also marred by violence outside the stadium, trouble flaring after a march by thousands of Russia supporters came under attack by masked hooligans.
Condemn
It led to 184 arrests, while, according to reports, at least 24 people were injured, including 10 police officers.
UEFA said: "UEFA condemns the isolated incidents that occurred yesterday in Warsaw prior to and after the Poland-Russia match, when some groups of known troublemakers pelted the police with missiles and attacked fans irrespective of the team they were supporting. Those arrested and charged will have to be dealt with by the relevant authorities.
"UEFA's philosophy is to create a welcoming environment coupled with a low-profile approach to policing. The focus should be on facilitating the enjoyment of the matches by genuine football fans and isolating the tiny percentage of troublemakers. UEFA is in a constant dialogue with the public authorities in order to achieve this aim.
"UEFA is determined that the overwhelmingly peaceful and festive atmosphere that has so far pervaded at UEFA Euro 2012 will be continued right up to and including the final in Kiev on Sunday 1st July."
The latest sanctions are a huge embarrassment for Russia, who are increasing pressure to deal with fan problems, having been named hosts for the 2018 World Cup.
The RFS had urged fans to behave after the Czech Republic game but its appeals appeared to fall on deaf ears.