Make or break for Wojtkowiak
Grzegorz Wojtkowiak is not going to crumble under pressure and waste the opportunity for Poland to reach the knockout stages.
By Peter Fraser - Follow me on Twitter @SkySportsPeteF
Last Updated: 16/06/12 12:02am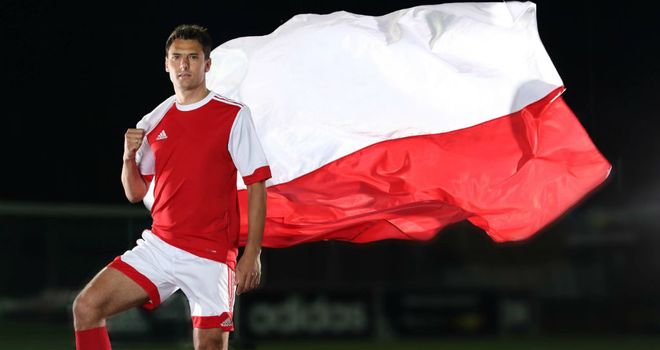 Grzegorz Wojtkowiak is not going to crumble under pressure and waste the opportunity of a lifetime for Poland to reach the knockout stages of Euro 2012.
The co-hosts go into their last remaining Group A game against Czech Republic on Saturday well aware only a win will be enough to reach the quarter-finals.
After respective 1-1 draws against Greece and Russia, Franciszek Smuda's team need to find a winning formula and that could include changes in personnel.
Having not yet played in this summer's finals, Wojtkowiak might be in contention to feature against Michal Bilek's Czechs in the search for what could be a vital clean sheet.
And if he is included, the 28-year-old will not let Poland down as they chase a place in the knockout stages of an international finals for the first time since the 1986 World Cup.
Decade
Wojtkowiak said in association with adidas when asked about the match against Czech Republic: "We have to start well in the game and have confidence. If that happens, we can reach the elimination phase.
"The Czech team is less physical than the other teams in our group but compensates with brilliant technique. They are very offensively minded, so we will have to play well.
"I can feel the pressure going into this last game but it is the moment I've been waiting for my whole life.
"I have been playing as a professional for almost a decade and I can sincerely say that nothing will top the Euros in Poland. It is just bigger than any other tournament for us."
Poland and co-hosts Ukraine are reported to have invested a combined total of an estimated €38billion (£30b) in sports facilities, hotels and transport links in preparation for Euro 2012.
Happy
And Wojtkowiak thinks Poland have benefited both on and off the field from staging the competition.
Asked to remember how he reacted when Poland won the right to co-host the tournament, he said: "I felt great. It has been four years but I remember it like it was yesterday.
"I feel happy not only about the team but for the whole country. People abroad only see stadiums and maybe airports.
"I see roads, new grounds, hundreds of little pitches - everything. We made a big leap thanks to the Euros."
Grzegorz Wojtkowiak wears the adidas Predator Lethal Zones which have five super-light (SL) rubber and memory foam 3-D zones, each designed to support perfect ball control. Visit www.adidas.com/football