World Cup: Joe Hart and Robert Lewandowski relishing fresh duel
Joe Hart is determined to keep Robert Lewandowski at bay for a second time this month when England travel to Poland.
Last Updated: 14/10/12 12:41pm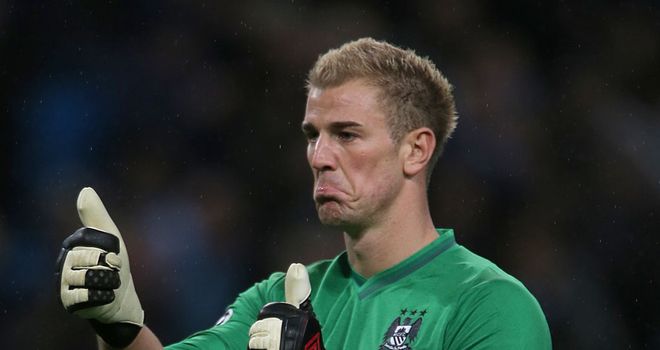 Hart produced a superb performance for Manchester City in their UEFA Champions League clash with Borussia Dortmund earlier in October, when Lewandowski was frustrated in a 1-1 draw.
Hart is now looking to shut out Lewandowski once again in England's crucial World Cup qualifier against Poland.
"I'm ready for Lewandowski and, hopefully, I can keep him out again this time," said the goalkeeper. "But it would be nice if it isn't quite as open as the last time I played against him."
Lewandowski is also looking forward to renewing his rivalry with Hart, and has warned that he fully intends to take his chances this time.
"Relax, I don't have a Joe Hart complex. It was just one situation and I'm sure it will be better with a second attempt," said the Pole.
"Who says he won't pick the ball from his net when we meet now. It will be a completely different match. And this time luck doesn't have to be on his side.
"Hart was in great shape in Manchester. But this is not a club game, it's an international. Anything can happen."
No fear
Hart accepts that it will be a difficult match for England, especially with the Poland fans generating a hostile atmosphere for the visiting team.
"It is going to be a tough game,'' said Hart. "That is the beauty of international football, when you are playing away you are playing against the nation.
"I am looking forward to playing in a good arena in front of a lot of people. We will have that pocket of fans who we always take and are awesome. We will look to them and be inspired by them.
"It will be a new experience for some of the youngsters but players adapt and that is the beauty of young players now. They don't play with any fear."