Gordon Strachan and Martin O'Neill thrilled as Scotland and Ireland drawn in Euro 2016 qualifiers
Scotland manager Gordon Strachan is relishing the forthcoming Euro 2016 qualifiers following the draw in Nice.
Last Updated: 23/02/14 4:30pm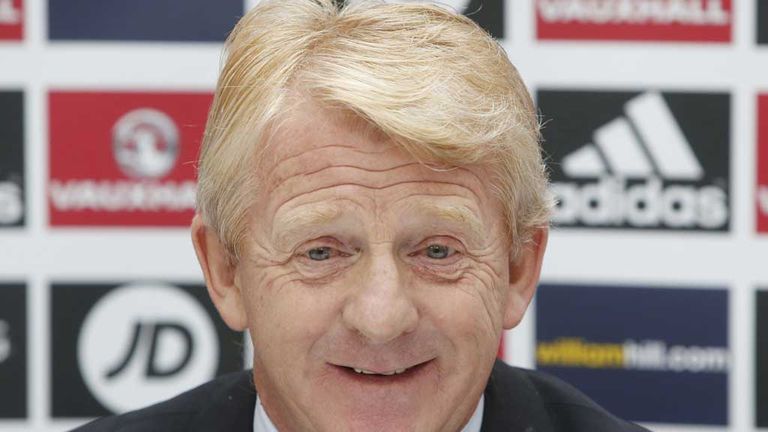 Strachan's team have been paired with Germany, Republic of Ireland, Poland, Georgia and tournament debutants Gibraltar in Group D.
The Scots hope to return to the finals of a major tournament for the first time since the 1998 World Cup, which took place in France, the venue of the Euro 2016 finals.
Strachan will come up against his predecessor at Celtic Martin O'Neill and former Hoops midfielder Roy Keane, who are at the head of the Ireland coaching staff.
And the Scotland boss is thrilled at the prospect of facing the Irish, although he knows no quarter will be given when the games come round.
"It is exciting," Strachan said. "There are some groups you might call mundane but we're definitely in an exciting group that should excite everybody.
"The two people I walked into the room with were Martin and Roy for the draw, and I just seen them just now and they're excited as well.
"We're excited but we're competitive as well. We're all smiling just now but we know fine well that the gloves will come off.
"We've got a hard group. And I think the teams in our group will be saying 'this is going to be hard' and you never know how it's going to fluctuate over the next couple of years - the form of a team, the form of individual players, the injuries, so it's very hard to predict at this moment.
"If we can keep all of our players fit then we'll have a chance and the Republic, Poland will be thinking the same, Georgia will be thinking the same.
"This is a real good level that the players have got to play at. I think if we play to the level we can play, and where we want to go to, we can definitely qualify."
Ireland counterpart Martin O'Neill is also enthused at the chance of returning to Scotland and facing Strachan.
O'Neill said: "They will be great occasions, I hope. And I'm sure he's looking forward to it. I'm sure he'll be as excited as I am myself.
"It is great. It is tough. I'm sure there are other groups that we might have preferred to have been in but nevertheless we get on with it.
"Let us go positively into the group. Taking aside Germany, who are the outstanding side, let's go for it."
The two matches between Scotland and Ireland will take place on Friday November 14 in Glasgow, and Saturday 13 Jun next year in Dublin.
Scotland get their hardest match out of the way first - away to Germany. They finish with Germany at home, Poland at home - which could well be the critical match of the campaign - and finally minnows Gibraltar away.
The Irish start with a tough away day in Georgia and they have a tough finish, with the Georgians and Germany in Dublin, and then a trip to Poland in their final group game.
Scotland fixtures:
Sunday 7 Sept 2014: (a) v Germany
Saturday 11 Oct: (h) v Georgia
Tuesday 14 Oct: (a) Poland
Friday 14 Nov: (h) v Rep of Ireland
Sunday 28 Mar 2015: (h) v Gibraltar
Saturday 13 Jun: (a) v Rep of Ireland
Friday 4 Sept: (a) v Georgia
Monday 7 Sept: (h) v Germany
Thursday 8 Oct: (h) v Poland
Sunday 11 Oct: (a) v Gibraltar
Ireland fixtures:
Sunday 7 Sept 2014: (a) v Georgia
Saturday 11 Oct: (h) v Gibraltar
Tuesday 14 Oct: (a) v Germany
Friday 14 Nov: (a) v Scotland
Sunday 28 Mar 2015: (h) v Poland
Saturday 13 Jun: (h) v Scotland
Friday 4 Sept: (a) v Gibraltar
Monday 7 Sept: (h) v Georgia
Thursday 8 Oct: (h) v Germany
Sunday 11 Oct: (a) v Poland