Side issues don't worry O'Neill
Northern Ireland manager Michael O'Neill is unconcerned by remarks from the Russia camp ahead of Friday's World Cup qualifier.
Last Updated: 06/09/12 6:07pm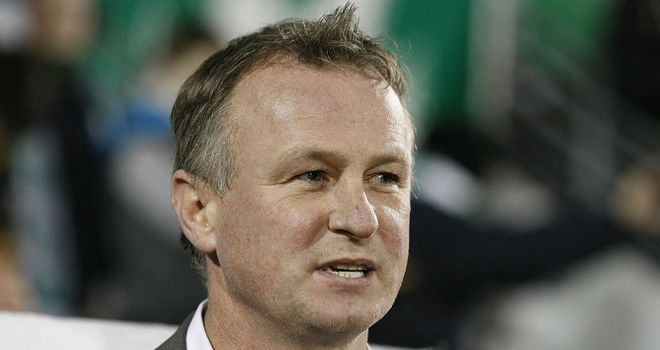 Northern Ireland manager Michael O'Neill is unconcerned by remarks from the Russia camp ahead of Friday's World Cup qualifier.
The sides meet at Moscow's Lokomotiv Stadium with Russia strong favourites to secure a victory in front of their own fans.
So confident are the home side that some comments hint at complacency with striker Alexander Kerzhakov reportedly admitting he had only recently been informed of Northern Ireland's existence.
Russia's new manager Fabio Capello was only able to give sketchy details when asked to assess O'Neill's men and has elected to go into the match with only two fit forwards.
But O'Neill is not going to allow these perceived slights to worry him ahead of their Group F opener.
"It doesn't really concern me to be honest," he said. "I'm not really sure (about the translation), but our focus is solely on ourselves and how we prepare and perform on the night.
"I believe Kerzhakov has played in Spain for a period so hopefully his geography is a little bit better than that.
"I would assume most of the Russian players will have heard of Northern Ireland, but it doesn't concern me at all.
"Our focus is with our own players. The opinions of the opposition you can't change or alter.
"We'll deal with that tomorrow evening when the game takes place. All those things are really side issues for us at this moment in time.
"We've done a lot of research on Russia and we're comfortable with where we are as a side."
Pressure
The match marks O'Neill's first competitive game in charge following three friendlies, while Capello is also new to the Russia post.
But the Italian is under significantly more pressure than his Irish counterpart and O'Neill is hoping to capitalise on that.
"Everyone knows the experience Capello has at international and club level and obviously Russia feel he's the right man to take them forward after their exploits at Euro 2012," he said.
"But all the expectation is with Russia and it suits us not to have to deal with that.
"It's a game we can look forward to with optimism rather than with the burden of expectation.
"It's a game where we have everything to gain."
This is the first game of O'Neill's reign in which he has been able to call upon something close to a full-strength side with Newcastle's Shane Ferguson the only likely starter unavailable.
"This is the strongest squad we've had available, no doubt about that," he said.
"In the three previous games we've been hindered by injury, particularly with the experienced members - Aaron Hughes, Chris Baird, Gareth McAuley, Chris Brunt.
Spine
"That is a spine of players who have a lot of international experience and experience of playing at the top level in the Premier League.
"They will be able to cope with this kind of fixture, they've done it over the years and certainly those players will be key.
"They've led by example for Northern Ireland and they will be crucial to us as we go forward.
"There's no reason, with the level of player we have in there alongside some of the younger ones, that this group of players can't get results."
But O'Neill conceded the loss of Ferguson is a blow.
"It's always disappointing to lose men from your initial squad and Shane was a blow because he has played so well for us in last three games," he added.
"But I think we have ample cover in other areas. I'm happy with the players we have available to us.
"The experienced players we have back give the squad a more solid look about it than we have had in previous games."