Cristiano Ronaldo will miss out as Portugal look to close in on Group F leaders Russia
Cristiano Ronaldo will urge his team-mates on from the stands as Portugal look to close in on Group F leaders Russia.
Last Updated: 25/03/13 12:57pm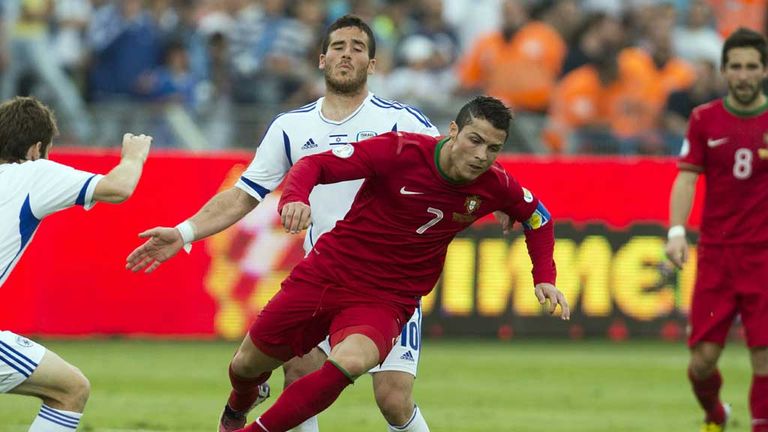 The Real Madrid forward is suspended for the game in Baku which the Portuguese realistically need to win if they are to challenge for automatic qualification to next year's finals in Brazil.
Russia are currently four points clear of second-placed Israel with a 100 per cent record after four matches.
They will also have two games in hand following the postponement in Northern Ireland at the weekend with their next World Cup qualifier not until June.
Portugal are level on points in third but they had to rely on a last-minute Fabio Coentrao goal on Saturday to snatch a 3-3 draw in Tel Aviv.
Now they must win and Ronaldo will do his part by urging his team-mates on.
He told Marca: "It makes me very sad, but everybody knows that being part of the squad is important to me.
"It would be easier to escape by plane and go back to my club, but I like it here and I think I can contribute without playing.
"I like knowing that I am with them in body and soul. On Tuesday, off the field, I'll be there cheering for my teammates to have a good game and we can win, that is our goal."
Neither is the 28-year-old under any illusion as to the task facing Portugal if they are to reach Brazil.
"We know that every time we have more pressure. We cannot draw or lose more games. Our margin of error is zero and so we have to go with the ambition of having to win and that we will do."
Azerbaijan have drawn three of their five games so far.
The other match in the group will see Israel travel to Northern Ireland, no doubt surprised to see themselves above Portugal in second.
It could have been even better had they been able to hold on to a 3-1 lead against Paulo Bento's men but tomorrow they will face a rested Northern Ireland in Belfast after their game was twice called off following heavy snow.