Zlatan Ibrahimovic reflects on his four-goal showing for Sweden against England
Zlatan Ibrahimovic claims his wonder goal against England was 'nice' and says he enjoyed his opening effort more.
Last Updated: 15/11/12 8:30am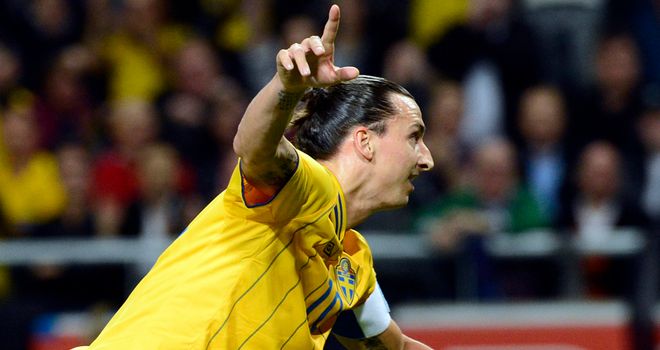 The mercurial Paris St Germain forward made history in midweek as he became the first player to score four times in the same game against the Three Lions.
His fourth of the evening, during an international friendly in Stockholm, was an acrobatic bicycle kick which is already being described as one of the greatest goals of all time.
Ibrahimovic, though, claims he took more pleasure from becoming the first man to score at the new Friends Arena than he did from a remarkable 35-yard effort in stoppage time.
"It was a nice goal," he said.
"It is one I enjoyed very much, even in a friendly. I've scored a couple of nice goals in my career.
"Of the four, the first goal I liked more because it was an historic goal, the first in the new arena. But four goals is not bad.
"When I saw the goalkeeper was out of his net, I tried to put it over him. It was a good try and when it comes off it's fantastic. If it doesn't, everyone will ask why you didn't keep possession and try and win the game."
Incredible
While Ibrahimovic has offered a modest reflection on his efforts in a 4-2 victory for Sweden, his national coach has paid tribute to a special talent.
Erik Hamren said: "Sometimes when he does these things in training and now in a match, you don't think it is possible to do it.
"Sometimes you feel you're looking at a computer game where you can do all these incredible things. That's not possible to do that, the fourth goal."