The greatest goal?
Was Zlatan Ibrahimovic's goal against England the best of all time? Have your say.
Last Updated: 15/11/12 4:43pm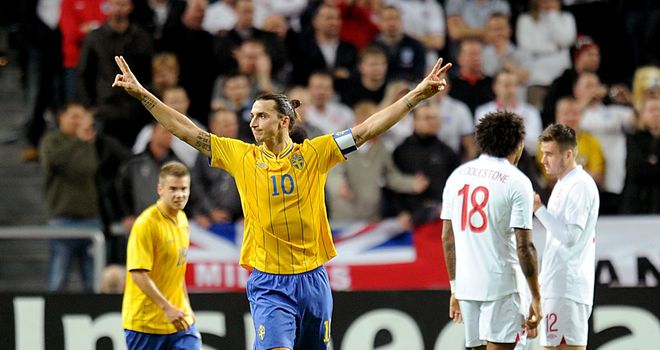 Whether you are a fan of Marco van Basten, Diego Maradona, or Lionel Messi, everyone has their favourite goal from football's history.
Sweden striker Zlatan Ibrahimovic's stunning, long-range overhead-kick for his fourth goal against England was the latest to enter the hall of fame. But was it the best of all time?
Have your say and vote in our poll as Sky Sports takes a look back at some of football's greatest goals, including the famous and some less obvious.
Diego Maradona v England - 1986
The Argentine legend picked the ball up in his own half with his back to goal and two England players in close proximity. Seconds later, they were in his wake and the ball was in the back of the net.
Dennis Bergkamp v Sunderland - 1997
Bergkamp played a one-two with Paul Merson but found himself surrounded by defenders with his back to goal. He was then knocked off balance and appeared to lose control until stepping on top of the ball, dragging first his right foot then his left over it to perform a 180 degree about turn. From there he entered the box on the left but appeared to shank his shot - that is until you realise he has actually curled it out of the goalkeeper's reach and into the top corner. The hand-over-the-mouth celebration added a nice final touch.
Marco van Basten v USSR - 1988
The forward clinched glory for Holland in the Euro 1988 final against the USSR when he executed a first-time volley of astonishing power and precision from an outrageously tight angle which left goalkeeper Rinat Dasayev grasping at thin air.
Roberto Mancini v Parma - 2000
Mancini was a glorious footballer and his back-heeled volley direct from a corner-kick summed him up. The body language was arrogant but the strike was also the only way he could beat the goalkeeper from his position. That goalkeeper happened to be Gianluigi Buffon. Brilliant.
Michael Owen v Argentina - 1998
Collecting David Beckham's pass in the centre circle, the England striker, then only a teenager, lit up the see-saw World Cup last-16 meeting by beating two Argentine defenders, arrowing a finish in to the top corner and ensuring himself a status as a global star.
Roberto Carlos v France - 1997
Carlos unleashed a stinging free-kick with the outside of his left foot from all of 35 yards. It firstly curled firstly away from Fabian Barthez's goal and then back inside the post. Some 13 years later, still the talk of football, physicists proved the technique was possible. It had little to do with the ball but more with the pure ability of Carlos.
Lionel Messi v Getafe - 2007
The moment a 19-year-old kid made in Argentina and manufactured in Barcelona proved that he was the rightful heir to Diego Maradona, and a player blessed with the potential to be even greater. Four defenders make a vain attempt to nick the ball off Messi's toe before he completes a mazy run, which started inside his own half, by rounding the goalkeeper and slotting past the despairing lunge of a fifth defender on the line.
David Beckham v Greece - 2001
Deep into stoppage time, England's Beckham did what he does best as his bending ball found the back of the net from 30 yards to book England a place at the 2002 World Cup and blow the roof off Old Trafford.
Benjamin Huggel v FC Zurich - 2009
At 1-0 down, four players engineered a super-slick passing move - a feint, a one-two and a side-flick all feature - before the ball was laid off for Benjamin Huggel to crash home from 20 yards in to the top corner.
Wayne Rooney v Manchester City - 2011
It is impossible to forget this effort. Jaws hit the ground around Old Trafford when Rooney produced a remarkable overhead-kick in the Manchester derby. From Nani's cross from the right, Rooney defied gravity and left Joe Hart helpless.
Paolo Di Canio v Wimbledon - 2000
From flattening referees to incredible gestures of fair play, Di Canio was quite a character in his playing days. But the Italian was also capable of moments of brilliance, such as when he met a cross in mid-air to flick his legs and deliver a stunning volley.
Tony Yeboah v Liverpool - 1995
The striker never quite fulfilled his potential at Elland Road and is instead best remembered for his eye-catching goals. This effort against Liverpool was no different. Elland Road was stunned as Yeboah smashed a first-time 30-yard volley past David James and off the underside of the crossbar.
Which outstanding goals have we missed? Let us know via the below feedback form