World Cup Group C: Austria coach Marcel Koller enjoys "positive energy"
A look ahead to Friday's action in World Cup qualifying Group C.
Last Updated: 06/06/13 4:30pm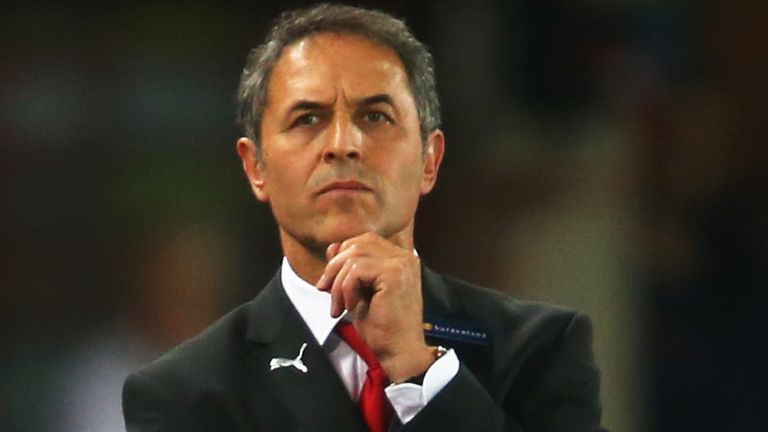 Koller's men have played five games in Group C so far, with their last three being 4-0 and 6-0 home victories over Kazakhstan and the Faroe Islands respectively, and then a 2-2 draw in the Republic of Ireland.
While Germany top the group with 16 points from six matches, Austria are currently second and Sweden - who have played four times - third on eight points apiece.
And although Koller has no doubt there is an expectation the Swedes will finish second, he has also stressed that his players are very much in the mood for making the most of the opportunity presented by Friday's encounter in Vienna.
"Sweden are ranked much higher in the world than us and are regarded as favourites for second place in the group," Koller said.
"But when chances are offered to us, we want to use them and we want to defeat the Swedes - I can feel the positive energy of my team."
Austria captain Christian Fuchs believes the team are going into the game not just in good spirits themselves, but also backed by national fervour.
"You can feel the euphoria in Austria," Fuchs said.
"We have developed considerably under Marcel Koller (who took charge in 2011).
"Everyone in the team is eager for Friday."
Following Friday's clash, Sweden are swiftly back in action, hosting the Faroe Islands, who are currently bottom of the group and yet to register a point, on Tuesday.
It will also be the Faroes' second game in four days, with them taking on the Republic of Ireland in Dublin on Friday.
Ireland are fourth in the group, also on eight points, after five matches.