Lars Lagerback hails Paris St Germain striker Zlatan Ibrahimovic
Lars Lagerback hailed PSG striker Zlatan Ibrahimovic as 'unique' and says that he knew of his talents from a young age.
Last Updated: 31/03/14 9:21pm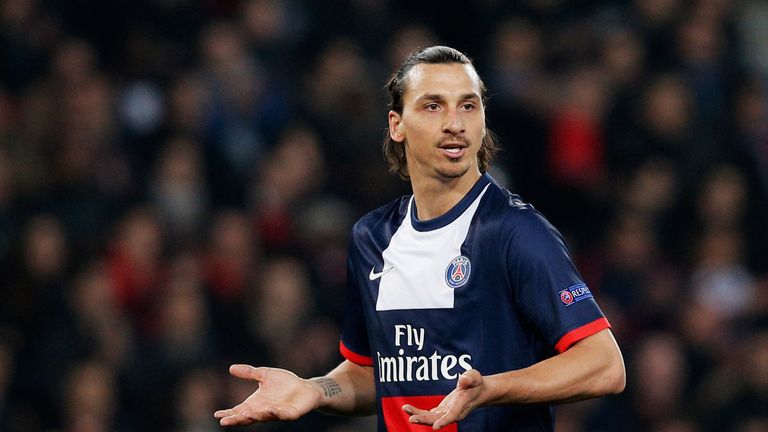 The 32-year-old has been in outstanding form again this season, hitting 25 Ligue 1 goals as well as finding the net 10 times in seven Champions League games as his side prepare to take on Chelsea in the quarter-finals of the competition.
Ibrahimovic, who is one goal away from equalling Sweden's goalscoring record, was given his first chance on the international stage by Lagerback as a 19-year-old playing at Ajax.
Lagerback is now in charge of the Iceland national team, but he praised Ibrahimovic for living up to the potential he showed as a youngster.
"Of course, you could see that he was a big talent," Lagerback told Sky Sports News Radio.
"I saw him in his club too and I knew his coach very, very well. We followed him for a few years before we picked him in the national teams.
"He was very, very promising. You never know what he would be in the future but I thought he had big chances to become a good player anyway.
"He had a lot of self-confidence but, of course, he was a little bit quiet and didn't play so much at the beginning.
"I think all players are like that but, at the same time, when you started to get to know him, he had a lot of self-confidence and a lot of ambition. As I knew him from the beginning, he always tried to be the best, so to speak."
Lagerback also believes that Ibrahimovic differs from a number of the world's top players in that he has improved with age.
"He has a very special personality and he has high demands from himself," he said.
"I think what is a little bit unique about Zlatan is, from my experience, when good players reach around their 30s, they're not maybe developing so much.
"Of course, you always get more experience and learn to understand the game a little bit better but I think he is unique because he's getting bigger and better every season.
"That's a little bit strange, at least from my experience when you're looking at players above their 30s.
"I don't think it's going to be easy to get better than he is today. He's a fantastic player. He can do some marvellous things that no-one else can do.
"Everyone in England remembers the goal he scored in the friendly last year. He's such an athlete too, he can do some fantastic things."