Vladimir Petkovic will succeed Ottmar Hitzfeld as head coach of Switzerland
Vladimir Petkovic will succeed Ottmar Hitzfeld as head coach of Switzerland's national team from July 1.
Last Updated: 23/12/13 5:09pm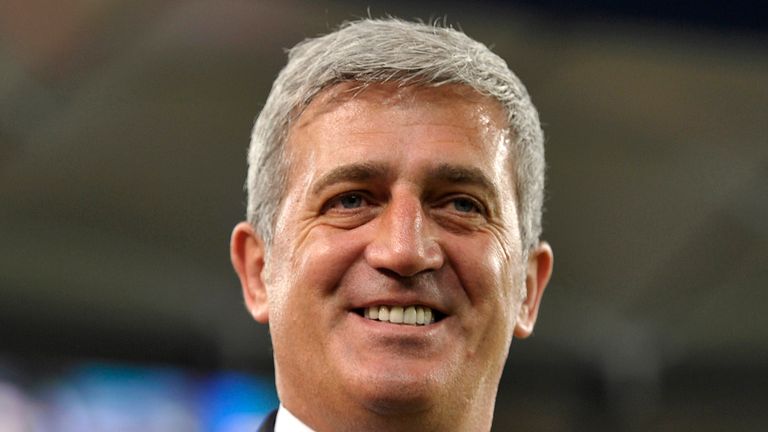 The Bosnian, who is currently in charge of Serie A side Lazio, moved to Switzerland as a 24-year-old player and coached six different Swiss clubs before moving to Italy last summer.
He will replace the retiring German coach Hitzfeld immediately after the World Cup finals in Brazil.
Petkovic told football.ch: "I am very proud. Proud that the Swiss Football Association has entrusted me with the first team from July 1.
"I am also proud to take charge of the great team from my second... no... make that my first home.
"I've spent 27 of 50 good years of life in Switzerland, which says enough about where I feel at home."
Petkovic has vowed to continue fighting for the Lazio cause, however.
The Bosnian is reportedly on the brink of losing his club job following Sunday's 4-1 Serie A defeat at Hellas Verona, and Lazio president Claudio Lotito confirmed he would meet the 50-year-old for showdown talks in the coming days.
But those comments preceded Monday's announcement from the Swiss FA, who will start work with Petkovic from July following the World Cup finals and Hitzfeld's retirement from management.
In an interview posted on football.ch, Petkovic stressed he would not interfere with Hitzfeld's preparations for Brazil as he concentrates fully on his duties at Lazio.
He said: "I will do my utmost to ensure that Ottmar and his players can tackle the World Cup in as calm and as focused a way as possible.
"I want to concentrate on my work now and then on July 1, 2014, I'll be fully ready for my new job."
The defeat at promoted Verona left Lazio 10th in the table and only six points clear of the relegation zone. They are also without a win on the road this term and have taken just six points from their last eight games.
But when referring to reports that he had coached the Biancocelesti for the last time, Petkovic insisted: "These stories have been circulating for weeks, since someone made it public that I was a candidate to succeed Hitzfeld.
"Such rumours and stories do not make life any easier but they seem to belong to the business. Above all, they do not change the fact that we are pursuing our goals at the club undeterred.
"I would never neglect my current work in favour of a new job."
Lotito could reinstate Petkovic's predecessor Edy Reja, a popular figure at the Stadio Olimpico, should the Bosnian depart but the Lazio chief stressed he would not "make a change for change's sake".
He told Sky Sport Italia: "We need an electric shock, I'm weighing up what to do at this minute.
"I will meet Petkovic because it's clear that we can't continue this way.
"But I don't want to make a change for change's sake, even if we do need to change our course. We need to do something so we can get going again.
"The squad is small so we've started evaluating players, even those from foreign leagues."