Fabio criticises player 'theft'
Fabio Capello has called on football's rulers to end the "theft of talent" that goes on between national teams.
Last Updated: 30/12/11 3:56pm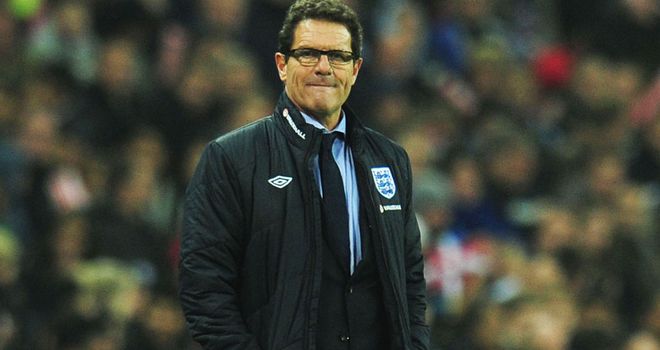 England manager Fabio Capello has questioned Germany's use of players with Turkish origin at last summer's World Cup and wants football's rulers to end the "theft of talent" that goes on between national teams.
England's 4-1 defeat to the Germans in Bloemfontein remains a major stain on his otherwise impressive managerial CV.
The Three Lions were undone by a squad that contained 11 players who had an opportunity to represent another country, including star man Mesut Ozil, plus Miroslav Klose and Lukas Podolski, both of whom scored in the rout.
Turkey did not qualify for the finals in South Africa but centre-back Serdar Tasci also chose to play for Germany, whilst Hakan Yakin, Gokhan Inler and Eren Derdiyok represented Switzerland.
And, speaking at the Dubai International Sports conference earlier on Thursday, the England coach made his feelings plain in a wider debate about concerns over the development of young players.
"A line needs to be drawn," he said, in comments reported in Dubai.
"Richer clubs are talent-scouting and stealing players by bidding higher and not thinking about the consequences for those countries.
"These players are acquiring new passports. Germany had five of Turkish origin who opted to represent them and we all know what happened.
"Problems need to be addressed. Decisions need to be made. Players can be bought, especially when they come from poorer backgrounds, where their families need the financial resources.
"I do not accept that, having trained as a player, a different team can pop by and steal the player from me. UEFA should pass new rules allowing people to reap the seed that's been sown instead of having talents leave when they receive a major offer.
"I've spoken to Michel Platini and he's resolute. In future, clubs will be forbidden to steal players from abroad at a very young age."
Welbeck case
Capello accepted an invitation to speak at the prestigious event, which Cristiano Ronaldo has also attended, as an individual and was not accompanied by any member of the Football Association staff.
He denied the accusation of double standards given he has capped Manchester United striker Danny Welbeck, much to the frustration of Ghana, who were hopeful of persuading the 21-year-old Mancunian to represent the country of his parents' origin.
"Ghanaian journalists have asked me why I selected Danny Welbeck to play for England because now he cannot represent Ghana," said Capello.
"But this isn't true.
"He was already at Manchester United. Before the selection I called his father and asked if I could select the boy.
"The father took time before agreeing to the selection.
"It was a personal decision, I spoke to the family and they were fine with their son playing for England. He was born and brought up in England.
"The rest of the German national team players were born in Germany or have never played for the national team of their origin.
"But with those other five players Turkey could have performed much better."
However, it appears Capello has not done his homework properly.
Ozil was born in Germany and, as with Welbeck and England, represented Germany, not Turkey, at various youth levels.