Nigeria boss Stephen Keshi has told a South African radio station he has resigned
Nigeria boss Stephen Keshi has told a South African radio station he has resigned after winning the African Nations Cup.
Last Updated: 12/02/13 7:36am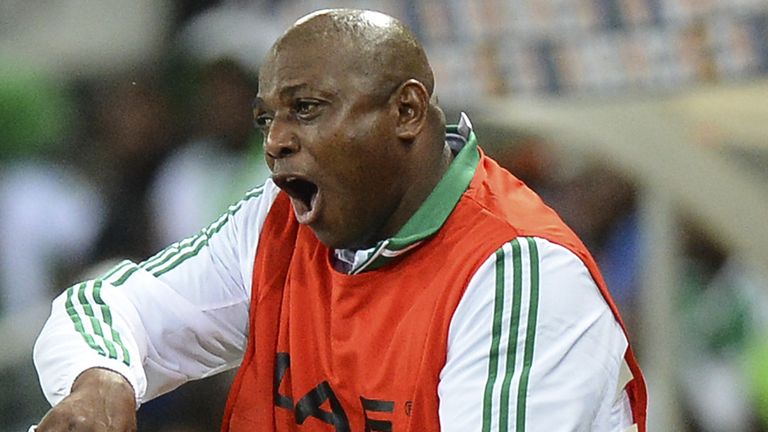 The Super Eagles edged out Burkina Faso 1-0 in Sunday night's final to claim their third Nations Cup title but it appears prior tensions between Keshi and the Nigerian Football Federation have led to his exit.
Keshi appeared on Metro FM, part of public broadcaster SABC on Monday, and said he had informed the NFF of his decision following the match.
Metro FM presenter Robert Marawa tweeted: "Stephen Keshi has just announced that he handed over his resignation letter after the game exclusively on 083Sport@6 With Marawa on MetroFM".
Keshi had revealed tensions between himself and the NFF before the semi-finals of the tournament, telling a press conference he would "pack his bags and leave" if he felt unwanted.
According to reports, Nigerian officials had booked a flight home for the squad, due to depart immediately after their quarter-final against tournament favourites Ivory Coast - seen by Keshi as a vote of no confidence.
Nigeria won the match 2-1.
Keshi, only the second man to win the Nations Cup as a player and a coach - following Egypt's Mahmoud El Gohary - said after victory in the final that he wanted to see other African countries give local coaches a chance rather than continuing to import from abroad.
He told Nigerian newspaper Vanguard: "My dream was to make Nigerians happy. We are not there yet. This is a work in progress but I want to dedicate this to all Nigerian coaches, who have been praying for this.
"In Africa, they give you a job today and want you to win the World Cup the next day. This cannot work. You have to give local coaches a chance.
"To succeed, we need time and I thank God that all the years of waiting have finally ended.
"Our people do not know how to give you time to get your programme through.
"These things take time but people seem not to care about it. But I thank God for seeing us through.
"There is a lot of potential in this team. I needed to push them and they responded. They were great as a team."