Monday Night Raw: WrestleMania XXX's world title match becomes a Triple Threat encounter
Triple H OR Bryan will meet Randy Orton and Batista in New Orleans
Last Updated: 19/03/14 3:01pm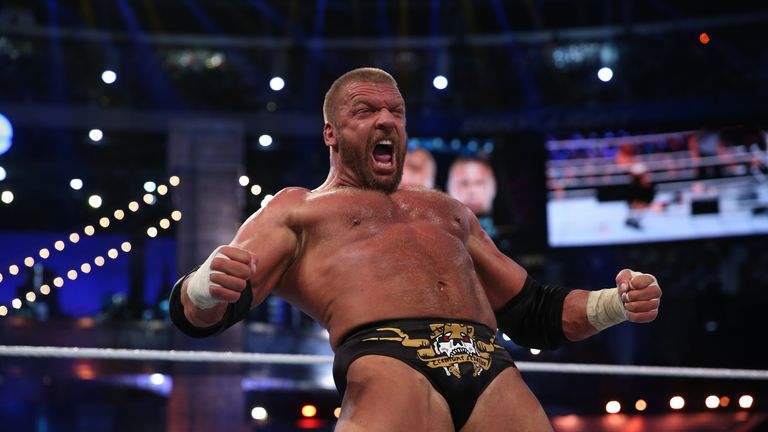 The Game cut an angry figure at the beginning of the show when his speech about facing Daniel Bryan at WrestleMania XXX was interrupted by former Evolution stablemates Batista and Randy Orton.
The Animal and The Viper voiced their displeasure at the news that Bryan would join them in the WWE World Heavyweight Title match in New Orleans on April 6 should he defeat Triple H earlier in the evening.
But WWE's Chief Operating Officer, frustrated at having his ability to conquer fan favourite Bryan questioned and irked by Batista and Orton's constant whining, made a shocking decree.
The Cerebral Assassin revealed that the WWE World Heavyweight Championship at 'Mania would definitely become a Triple Threat - as he would be inserted into the contest if he overcomes Bryan!
However, Triple H's Monday-night work did stop at incensing his ex-buddies, as it also extended to desecrating Bryan at the end of Raw following a man-to-man summit turned bad.
The Game called Bryan - who had just beaten Orton in a no-disqualification encounter after Batista had speared The Apex Predator - to the ring to tell him that he had earned his respect for failing to give up on his dream of seizing the WWE World Heavyweight Title.
Bold
But the kind words were swiftly cancelled out when a flotilla of hired henchmen, dressed as police officers, handcuffed Bryan in the middle of the squared circle, allowing the King of Kings to maul the submission specialist and, ultimately, Pedigree him.
Elsewhere, plenty of bold statements were made as John Cena explained that the man he will face at WrestleMania, Bray Wyatt, gave him the shivers in a way that luminaries such as The Rock didn't, and Wyatt vowed to expose Cena as a "beast" in Louisiana.
The Real Americans defeated WWE Tag Team Champions The Usos in a non-title match; Goldust clobbered Fandango; and Big Show, Dolph Ziggler, Mark Henry and Big E vanquished Alberto Del Rio, Ryback, Curtis Axel and Damien Sandow.
Sheamus battered Titus O'Neil in a St Patrick's Day Showdown - before being sucker-punched by Christian's Killswitch straight afterwards - and Paul Heyman explained why Brock Lesnar would make mincemeat of The Undertaker's undefeated streak at WrestleMania.
Plus, Naomi - sporting an eye patch to protect the eye injury that has kept her from competing in recent weeks - reunited with Funkadactyls partner Cameron to conquer AJ Lee and Tamina, which caused dissension between the Divas Champion and her protector.
And Kane received a triple powerbomb from The Shield's Dean Ambrose, Seth Rollins abnd Roman Reigns after accusing Jerry Lawler of orchestrating last week's Occupy Raw segment in Memphis.
WrestleMania XXX booking details
WrestleMania XXX will be shown on Sky Sports Box Office (channel 743) and Sky Sports HD Box Office (channel 752) at midnight on Sunday, April 6 (Monday morning).
WrestleMania XXX will be repeated on Sky Sports Box Office (channel 743) BUT NOT Sky Sports HD Box Office (channel 752) between 10am on Monday, April 7 and 10pm on Saturday, April 12.
Repeat showings will last for four hours.
The event is priced at £17.95 for UK customers, €24.95 for customers in the Republic of Ireland.
You can order WrestleMania XXX from Friday, March 28 by pressing the Box Office button on your remote. Select 'sports & events' and follow the on-screen instructions.
Viewers can call 08442 410 888 from Friday, March 28 to book WrestleMania XXX. (There may be an additional charge for telephone bookings).
You can also book WrestleMania XXX online from Friday, March 28 by visiting this link: https://my.sky.com/orderboxoffice/
Cable customers should contact their local cable operator.