Poole dominate; Bees through
Reigning champions Poole Pirates moved five points clear at the top of the Elite League after victory at South Coast rivals Eastbourne.
Last Updated: 03/06/12 11:40am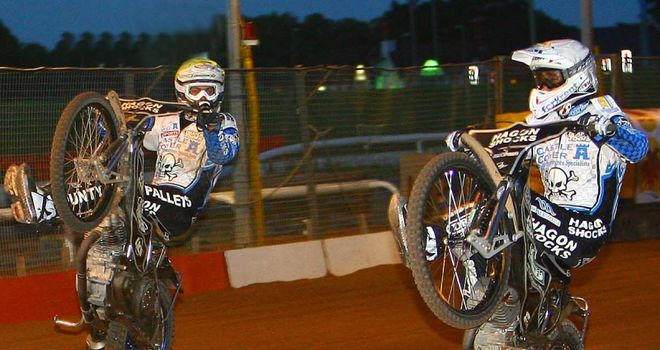 Reigning champions Poole Pirates moved five points clear at the top of the Elite League after victory at South Coast rivals Eastbourne.
The meeting only last 12 heats before rain brought a premature halt to proceedings, with Poole were leading by 37-35 which means they taken maximum points.
A new look Poole had the brilliant Darcy Ward at number one with Chris Holder dropping down, but it made little difference to the 'Turbo Twins'.
Ward won all his three rides whilst Holder chalked up 14 points to lead Poole to the win.
With Eastbourne leading by two the crucial race was in Heat 11 when Ward and Ricky Kling claimed a 5-1 which ended up proving pivotal.
"I thought if anyone could beat Poole the way they are going at the moment, it would be us here this evening and barring a few moments of misfortune for Cam (Woodward) and Lukas (Dryml) in heats five and six we could have been far better placed when the rain finally beat us after twelve races," said team boss Trevor Geer.
"We might have been behind by then but had the match continued, I still believe we could have got some sort of a result with Lewis (Bridger), having just beaten Chris Holder, and Timo (Lahti) still to come out, but credit to Poole, they were in front when it mattered most and with the rain taking hold the way it was, there was no other decision than to call the remainder off."
Bees success
Saturday's other meeting was also rain affected as Lakeside's KO Cup quarter-final second leg clash with Coventry was reduced to 14 heats - but in a shock result they had already lost to The Bees who claimed a 49-38 success.
Coventry had an 11-point going into the second, but Lakeside were still fancied to book a semi-final spot - but the visitors progressed 101-79 on aggregate.
Peter Karlsson and Davey Watt hit double figures for the home side, but Coventry were again led brilliantly by Chris Harris with paid 14 whilst Kenni Larsen and Ed Kennett also scored well.
Coventry co-boss Colin Pratt said: "It was a good all-round performance from the boys tonight, and very pleasing. It gets us through to the next round which means at least two more meetings to look forward to, and obviously Scott (Nicholls) will be back by then as well.
"They went about it the right way throughout the tie, and there's a good spirit there. You do have the occasional down-side such as losing at home to Birmingham - obviously you don't want to lose to your neighbours, but everyone is trying, and this meeting showed a very positive side to the Coventry team.
"The three heat-leaders were exceptional. We were looking to make sure we scored from all the races with how we set the team up, and the one time we lost a 5-1 we got it back straight away in the next, so it all worked out well."