Tai Woffinden insists that finishing in the top eight is his main goal for next season
Tai Woffinden insists he is going into next year's Grand Prix fully focused on making a top-eight spot.
Last Updated: 10/11/12 5:58pm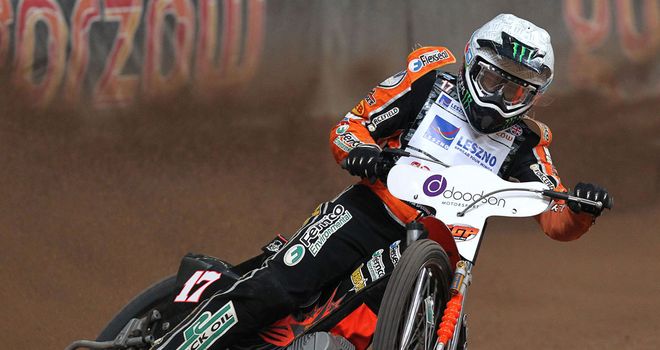 Finishing in the top eight is the only way to guarantee a place in the series for the following year, and during his only other campaign in 2010 he struggled to adapt.
But now back in the SGP after accepting a permanent wild card, he is confident he can live up to expectations.
"The main stage for me is the World Championship and I don't want to under-perform like I did two years ago. I want to make the top eight. If I do that, I'm in for 2014. So that's my first goal," said Woffinden.
"If everything goes to plan, I'll aim for better. But I'm going to do everything I can to get into the top eight."
Woffinden confirmed he is unlikely to race in Sweden next year, instead sticking with England and Poland.
"It looks like I'm going to drop one of the leagues - it's probably going to be Sweden. I want to focus on the World Championship," he added.
"It will definitely be a loss of income, but that's why I'm working hard now to get financial backing so I don't have to worry about that.
"This year is the first year I've really said 'this is it; I'm going to get stuck into my training.' When you do the hard work, it definitely pays off. So I'm going to train the hardest I have ever trained.
"I've completely changed my diet over the last month. I'm only eating healthy stuff - I don't eat anymore McDonalds, bad food or takeaways.
"It's all vegetables, fruit, salmon, chicken and everything that's good for my body. I feel so much better for doing it as well. I'm not going back to the bad habits."