Euro star
Daniele De Rossi finds himself out of his comfort zone in Italy's defence against Croatia.
By Adam Bate - Follow me @GhostGoal
Last Updated: 14/06/12 9:01pm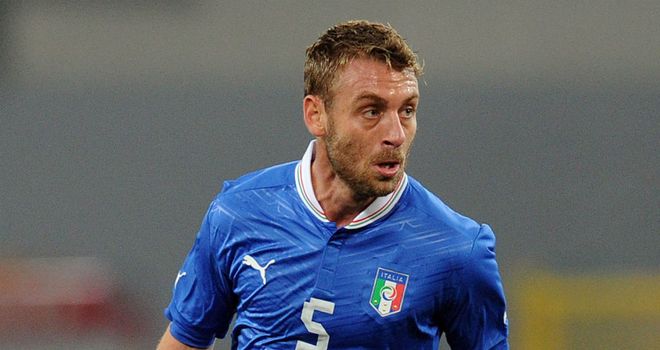 Daniele De Rossi is hardly the new boy. With more than 70 caps for his country, the Roma man bows only to Gianluigi Buffon and Andrea Pirlo among the Azzurri squad in terms of international experience. Indeed, he was part of the World Cup winning squad of 2006, putting away a high-pressure penalty against France in the final shootout. But six years on, he finds himself in unfamiliar territory in more ways than one. An injury to Andrea Barzagli means he is being asked to play in a back three for his country - and his credentials are being questioned.
It would be wrong to suggest this is an entirely alien role for the 28-year-old midfielder. He has played in defence occasionally over the years, particularly under former Roma coach Luis Enrique last season. And there was enough steel in the early tackles on David Silva and Cesc Fabregas in the Group C opener against Spain to show that he is no novice in the role. Importantly, De Rossi believes in himself. "De Rossi is very convinced he can do this," said Italy coach Cesare Prandelli. "We should wait for the game before making judgement on how he interprets the role, no?"
De Rossi's interpretation of the role may differ from the one others expect. The man himself refuses to accept his deeper positioning can be accurately defined as that of a defender per se. "Strictly speaking I won't be a central defender," De Rossi told La Gazzetta dello Sport. "I'll be linking up between defence and midfield. My role for Italy will be similar to that of play-maker. The coach wants a midfielder in that role, not that the defenders aren't reliable. He wants a defence that can move forward."
Against Spain, his offensive ambitions proved a key asset. While two of the great creative midfielders of their generation, Andrea Pirlo and Xavi, found themselves swamped among a plethora of playmakers in the centre of the park, De Rossi had time and space to pick out his passes at the back. Under little pressure from a fellow auxiliary man among the opposition, Spain's nominal forward Fabregas, he sent three long-range passes far up the field in the opening minutes to give Italy a foothold in the Spanish half.
The fear was how De Rossi would cope without the ball at his feet. The answer came as he produced a thoroughly accomplished performance - until the moment Fernando Torres came off the bench. The arrival of a genuine centre-forward willing to run in behind the Italian back line left De Rossi looking distinctly uncomfortable. The Chelsea striker exposed the weakness and, but for his own failings, should have scored at least two. One such chance came as a direct result of De Rossi recklessly diving in and allowing Torres a clear run at goal.
The 'success' of Torres up against De Rossi led to understandable speculation that there was an opportunity there for Croatia to expose the Italian on Thursday. Would two in-form strikers such as Nikica Jelavic and Mario Mandzukic be too tough for him to deal with? Or would De Rossi pick off the gaps behind roving right-back Darijo Srna with his accurate long-range passing?
As it turned out, De Rossi had far more defensive marking to do and struggled to retain his free-role at the back with both strikers keen to get near him in anticipation of the direct ball. As a result, aside from the occasional quality pass he rarely proved a threat in an attacking sense. However, he stood up to the physical challenge admirably well, winning his fair share of headers and making several crucial blocks. Croatia did find a way through in the end but it was due to a defensive lapse by the experienced Giorgio Chiellini rather than anything De Rossi had failed to deal with.
It remains to be seen how Republic of Ireland choose to line up in the final group game. De Rossi could be set for the physical test courtesy of Kevin Doyle or a different kind of challenge from lone striker Robbie Keane. What the first two games have shown is that Italy can get a positive result whichever route the opposition take. And even if a return to midfield beckons, the flexibility De Rossi has provided Prandelli with could prove vital if Italy enjoy an extended run at Euro 2012.