Euro paper talk
We look around the continent for newspaper reaction to England's draw with France in their opening game of Euro 2012.
Last Updated: 12/06/12 10:18am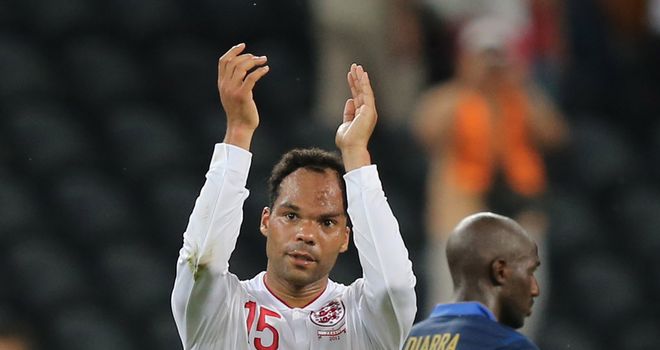 When scanning the continent's news stands for opinion on England's stalemate with France in their Euro 2012 opener, a common consensus quickly becomes apparent: France played the better football but, overall, England's resilience over the 90 minutes was just about worthy of a point. Fleet Street's finest are largely singing from the same hymn sheet too. Although loath to go overboard about a performance that was more perfunctory that perfect, it's fair to say Roy Hodgson has come through his first major test as England manager unscathed. Let's hope it stays that way.
France
L'Equipe: Blues will have to be content
The English were a little more pressing than expected, but France versus England was broadly in line with the idea that we expressed in the previous day: a tricky game for the Blues. Certainly boring for spectators. Tense in the early stages, the players and Laurent Blanc did not know how to go about tearing the double defensive curtain of the English. When they pressed on the wings, they too often lacked presence in the area. When they insisted on going through the middle, they broke their teeth on Terry, Lescott and Gerrard, virtually positioned as a third central defender.
France Football: The Blues deserved better
Despite its overwhelming dominance throughout the game, the France team failed to secure victory on Monday against the English in their Euro 2012 opener at the Donbass Arena in Donetsk.
Republic of Ireland
Irish Times: Old failings resurface to frustrate England
Briefly, there was the sense of a team that could give Euro 2012 a jolt. Steven Gerrard had just delivered a cross of such expertise it would have been impudent for Joleon Lescott not to apply the finishing touch. France's 21-match unbeaten sequence was suddenly looking vulnerable and England threatened to have the wit and gumption to end their record of never having won their opening game of this tournament. Then the old failings returned.
Holland
De Telegraaf: British stunt French progress
In the second half both teams tried in vain to find the net again. The English striker Danny Welbeck had in the final stage a great opportunity, but did not convert. And Jermain Defoe, who in the second half replaced the young England forward Alex Oxlade-Chamberlain, could not make the difference.
Italy
Corriere dello Sport: Nasri answers Lescott
A disappointing tie between two of the most anticipated in this national tournament. The 1-1 draw bears the signature of Lescott, who opened the scoring on the half hour for the English, and then Nasri who responded on 39 minutes. There were few emotions and spectacular moments, in a match played at a slow pace. France decided to play at a trot, England as a bystander, often defending at full strength. The dominance of the Bleus was evident for the most part. The second half continued at a pace befitting of the challenge at high altitude. It seems to be the championship is in Mexico and not in Eastern Europe.
Spain
Marca
France and England drew on their debut in the European Championship. England went ahead with a header from Lescott on the half hour and Nasri equalised before the break with a shot from the edge of the box. Laurent Blanc's side did more, but did not shine as expected. England's plan was defensive. Their approach worked well. The game, was nothing.
England
The Daily Mail: Lescott...1, Les Bleus...1
England were the epitome of dogged determination in the stifling heat of Donetsk. Outfoxed by France for key periods of this match - possession ran at 65 per cent to Laurent Blanc's men, who made 654 passes to England's 345 and had 15 shots on target (including those blocked) to England's one - Hodgson's team were never less than resilient. They came away with a point that represents a more-than-creditable start to the campaign.
The Guardian: England huff and puff to draw
A draw still represents a reasonably satisfying evening's work when the opposition have not lost a match since September 2010 and Hodgson was entitled to be pleased by all the usual English qualities of application and structure. Nobody should be too surprised either that this team are still, very evidently, a work in progress when their preparations were so erratic. Hodgson has had only three games and, in those circumstances, there were encouraging signs of a team taking shape. All the same, England were too rigid, lacking fluidity in this functional 4-4-2 system.
The Times: England are gritty rather than pretty
England will need to be more than resilient if they are to turn initial promise into something more, but for now let us accentuate the positives. Put simply, England played like a team. Not a brilliant team, not like a leading contender to emerge from this tournament as champions of Europe for the first time, but as a collective enterprise.
The Daily Telegraph: Point made
At times, this was a night that threatened to be English Roundheads versus French musketeers, of Scott Parker erecting the barricades in midfield to keep the elegant mistrals of France at bay. Sound contributions were seen all over the pitch for England. John Terry, making light of moving to the right of the two centre-halves, made some important interceptions. Lescott headed England in front and defended with his usual diligence. The ball was squandered too frequently, a familiar flaw with England and one that may eventually lead to cracks in Hodgson's new building.
The Independent: Point made (great minds and all that...)
It doesn't make your blood race. It doesn't persuade you to reach for a flag. But last night it stopped France as they threatened to produce not only beautiful but also killing football. Above everything else, it was a performance of dogged belief and a clear understanding of what they could achieve. To understand the nature of their achievement you had to wake up to the blazing sun and the sense of a heavy challenge.
The Daily Mirror: Kings of Joleon
Oxlade-Chamberlain's selection was a symbol of the fact that Hodgson will not be scared to break free. It was a powerful statement by the England boss, the statement of a man who will not be afraid to gamble. It was a bold choice. It moved England up a gear. It moved them from safety-first to a side eager to keep the opposition guessing. And it contributed to the fact that England started this tournament where so little is expected of them on a high.
The Sun: Jole good
If Fabio Capello had been in charge, some of his media supporters would have been hailing it as a tactical triumph against a France team now unbeaten in 22 matches. Sure, we'll never win Euro 2012 performing like this. Hodgson's team were comprehensively outplayed at times, the match stats revealing 15 French attempts on target and just one from England. France also won the possession battle 60-40. But it was still a patched-up, ragtag and bobtail army that Hodgson had to send out to ensure he didn't get off to the worst possible start in his first competitive match as England boss.