Euro Stars
Yohan Cabaye scored in France's 2-0 win over Ukraine but he may still have to raise his game.
Last Updated: 15/06/12 9:39pm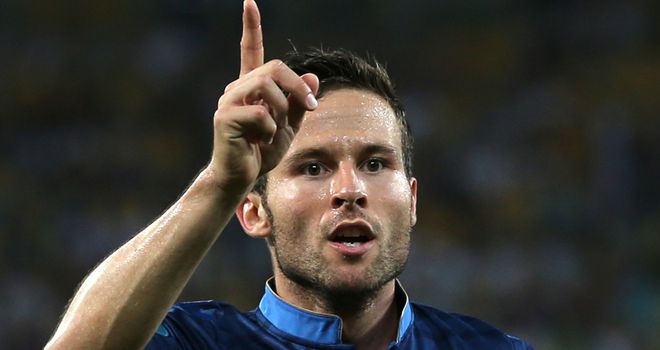 It may have been the unexpected deluge during the game which caused the France dynamo to short circuit, but we have come to expect so much more from Yohan Cabaye.
Cabaye was one of the beacons of Newcastle's successful season last term with his all-action displays at the heart of their team.
Yet against a below-par Ukraine, he struggled to stamp his authority on the game with his usual combination of aggression and skill.
Admittedly, the players were affected by the game being interrupted after five minutes because of the weather, and the 55-minute delay until the restart caused both sets of players to start slowly.
However, this game needed someone to get on the ball and direct the tempo from the centre of the field, and Cabaye should have risen to that challenge.
He did fizz into life after the interval to score his first goal for his country with a well-taken effort from Karim Benzema's pass.
A second goal eluded him when his divine strike came back off the post following a thrilling passage of play but we needed to see more of that kind of play from him.
He has proved that, at club level, he is one of the leaders of the side and now the challenge has to be to take that into the international scene.
Yann M'Vila was injured in the build-up to the tournament and missed the opening game against England, but has now recovered and duly replaced Cabaye against Ukraine after 68 minutes.
The Rennes midfielder is being coveted by some of Europe's leading clubs and the Ligue 1 side have slapped a £20million price tag on his shoulders.
He is a player of undoubted talent; however, if Cabaye can replicate the form that saw him score five goals and help himself to nine assists at Newcastle last term, then M'Vila could find himself watching more of Euro 2012 than he actually plays.