World Cup: Miroslav Klose deserves more than grudging respect for equalling Ronaldo's goalscoring record
Miroslav Klose's equaliser for Germany in their 2-2 draw with Ghana in Fortaleza saw him equal Ronaldo's record of 15 World Cup goals. While the veteran forward might not be one of the game's greats, Adam Bate feels he deserves more than grudging respect...
Last Updated: 23/06/14 11:36am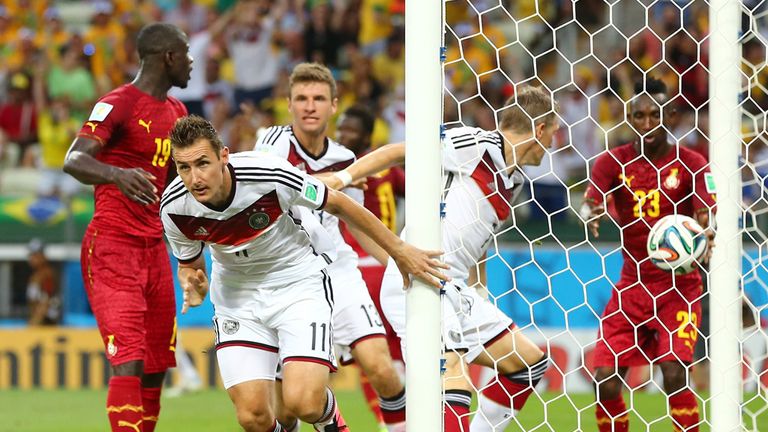 "Welcome to the club." Ronaldo's response to Miroslav Klose equalling his World Cup goalscoring record was magnanimous enough. But don't be fooled. Not everyone is happy about it. Least of all Ronaldo himself.
El Fenomeno had been rather more honest in the build-up to the tournament. "I pray with all my powers that he does not break the record," said Ronaldo. He's not alone. There seems to be a feeling that the Brazilian icon was worthy of the honour in a way that the new man is not.
Not all records resonate with the public, but this one is easy enough to understand – the man who has scored the most goals in the World Cup. What's not so easy to understand is how such a record can be held by an ostensibly unremarkable forward like Klose.
Deceptive
If appearances can be deceptive then so can club form. Klose scored just three Bundesliga goals for Bayern Munich in the season preceding the 2010 World Cup. He promptly went and scored four goals in the tournament itself.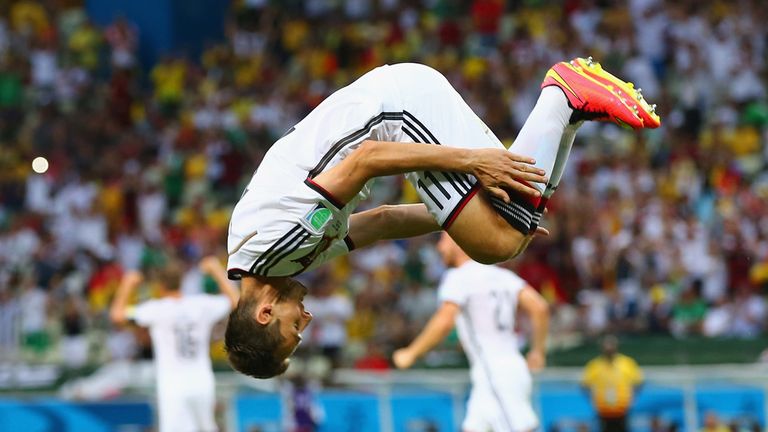 After that reaffirmation of his World Cup pedigree, Germany coach Joachim Low was hardly likely to be discouraged by a tally of seven Serie A goals for Lazio last season. Sure enough, his faith was rewarded as Klose scored with his first touch against Ghana.
It's a goal that means 48 of Klose's last 56 international goals – there are 70 of them in total – have now come in competitive internationals. It's indicative of his big-game temperament. Indeed, you wouldn't be shocked to discover Klose was retiring from club football to concentrate on playing for his country.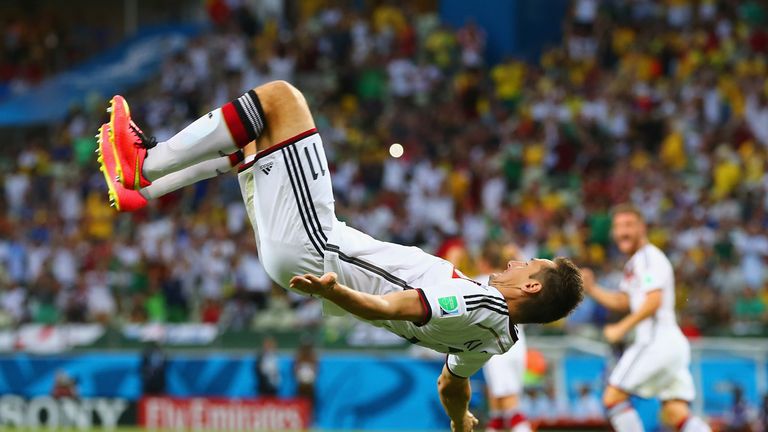 It's no freak that he's scored so many. Of course, Germany are blessed with creative attacking midfielders who provide unparalleled service, but it's not the case that Klose merely feeds off them. He's a savvy striker. His intelligent movement creates reciprocal relationship. He brings the best out of his team-mates too.
Key partnerships
Importantly, Klose boasts strong understandings with key figures Thomas Muller and Mesut Ozil. This was particularly evident against Argentina in the 2010 World Cup quarter-final. After spurning a good chance to score following a Muller lay-off, Klose volleyed home from an Ozil cross to put the seal on a remarkable 4-0 win.
A year later in 2011, the trio's relationship reached its zenith as they combined for all three goals in an all-too-comfortable 3-0 win over Holland. "All three were able to switch positions, creating chaos," wrote German football expert Clark Whitney. "They combined as though connected through the same brain." A special line for a special forward line.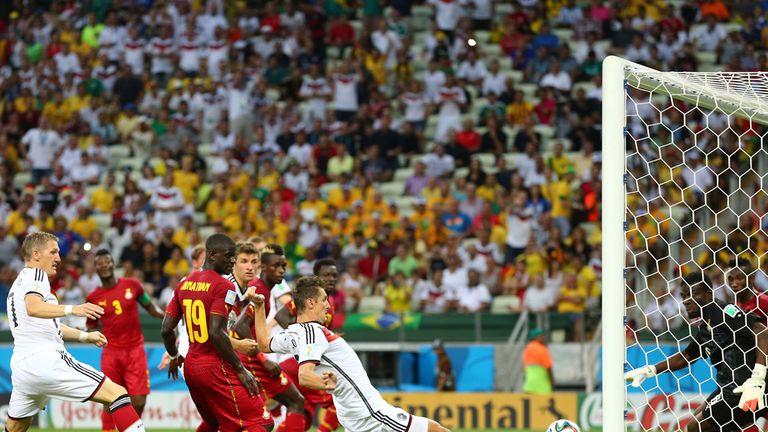 Others have tried to forge such a bond but the wait for an enduring target man to rival Klose continues. Kevin Kuranyi proved a poor imitation, while Mario Gomez, the man who outscored him so emphatically at Bayern, faded at just the wrong time. Klose's calendar doesn't make such mistakes.
As Low experiments with Muller operating as that most real of false nines, the veteran goalscorer is no longer a starter. But even at 36, he's the man the manager turns to when it matters. He duly delivered goal number 15 from 20 World Cup appearances on Saturday evening. The bigger the game, the better the strike rate.
It seems the trademark somersault celebration is a struggle these days, but the goals keep coming and while not everyone will embrace the ascent of the willowy German, nobody should be foolish enough to tell themselves it is anything other than deserved. Miroslav Klose's record speaks for itself. Welcome to the club.