Euro star
Giorgos Karagounis experienced a wide range of emotions as he inspired Greece to victory over Russia, with the midfielder tasting the highs and lows of international football. Chris Burton reflects on a memorable night for the enigmatic 35-year-old.
Last Updated: 16/06/12 10:58pm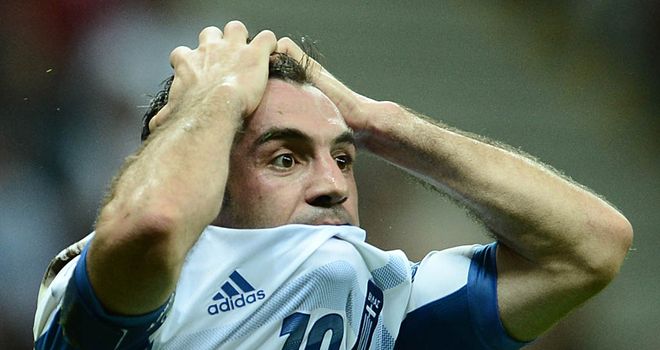 If it feels as though Giorgos Karagounis has been part of the international scene for eternity, it is because he has.
Here is a man who made his senior bow for Greece in the 20th century, but is still going strong some 13 years later. Few could have imagined he would achieve so much when he took his first tentative steps on the road to becoming a national icon back in 1999.
Karagounis is, however, his country's on-field leader, creative influence and cheerleader-in-chief.
On Saturday, he moved alongside the legendary Theo Zagorakis as the most decorated player in the history of Greek football. A meeting with Russia saw him earn his 120th cap, and it would prove to be a night to remember for the enigmatic midfielder.
Karagounis has always been a bundle of energy, with a short fuse likely to go off at any time.
He spent much of the first half against Russia gesticulating wildly towards the match officials, with his amateur dramatics befitting the Greek tragedy which appeared to be on the cards. It was, however, in first half stoppage-time that he sprung to life and ensured there would be a happy ending to this particular tale.
Celebrations
Some rather questionable Russian defending sent him scampering clear and he made no mistake as he lashed the ball low under Vyacheslav Malafeev. With results elsewhere working in their favour, Karagounis had just enhanced his standing among Greek gods.
In the end his effort proved to be the match-winner, and a 1-0 success was enough to see Greece upset the odds and reach the quarter-finals of Euro 2012.
Karagounis rightly found himself at the centre of Greece's elaborate post-match celebrations, but his joy was tinged with sadness. A 62nd-minute caution means he will sit out the quarter-finals, denying him the chance to earn cap number 121.
He has every right to feel aggrieved at being robbed of that opportunity, with Swedish referee Jonas Eriksson failing to spot a clear clip of his ankles inside the Russian box. Instead, Eriksson brandished a yellow card in the direction of Karagounis - a man who missed his country's finest footballing hour, the Euro 2004 final, through suspension.
Karagounis made his feelings known at the time, and as he departed the field after being substituted for his own good, but he did enough during his time on the pitch to ensure that the night will be remembered for all of the right reasons.