Euros from afar
US-based British sportswriter Simon Veness provides an American perspective on Euro 2012.
Last Updated: 26/06/12 10:20am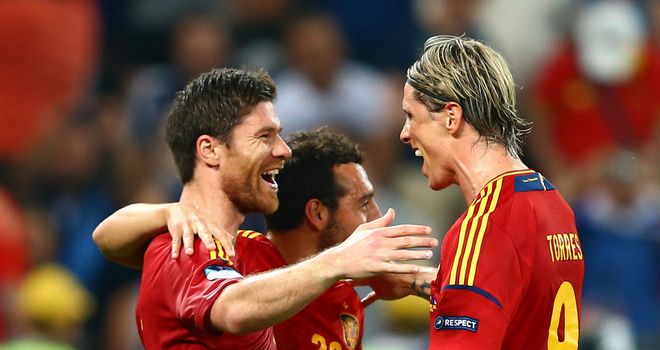 Sometimes it takes distance to provide a true picture of an event. Distance and a valid comparison.
That is certainly the case with Euro 2012, which has, rather surprisingly, grabbed a lot of attention and TV time over here in the US.
I certainly have the distance from my base in Florida but the right simile had escaped me, until watching Spain's velvet dismantling of France in Saturday's quarter-final.
You see, just down the road on the coast in St Petersburg (currently being battered by Tropical Storm Debby) is the fancy new Salvador Dali Museum, a space-age vision of architecture and artistry. And it struck me that the Spanish wizard of the paintbrush would have had a lot in common with Vicente del Bosque's team.
For, if ever a Football XI were to swap their boots for brushes, it would be Spain, 2012 edition.
Just like their illustrious artist countryman of the 20th century, here is a whole team that paints in beautiful broad, abstract terms, luring viewers in with their dynamic, swift brush-strokes, but then not revealing their true genius until you stand well back and see the finished picture for what it truly is.
The end result is audacious, thrilling - and totally incomprehensible to many.
For 'viewers' in Euro 2012 terms, read 'opposition,' and for 'end result' just read 'scoreline.' And you can certainly add France to the list of teams that surely feel completely bamboozled by what just happened to them in sporting terms.
That's right. Samir Nasri and Co just got painted to death.
The French you see, were still painting in standard, orthodox terms; sticking to the usual footballing conventions of attack and defence, never realising they were ensnared in a three-dimensional puzzle, another masterpiece constructed by Del Bosque but carried out by his team of artists. Strikers? Who needs strikers in this new era of the Soccer Surreal?
Almost before France knew it, the 90 minutes were up, the scoreline read 2-0 Spain, and the latest victims of these sporting surrealists had been hustled out of the door marked 'Exit.'
OK, in prosaic terms you can argue a team that scored only three goals in four games (even England scored five) did not deserve to hang around much longer and, certainly, Laurent Blanc has a challenge on his hands to conjure something even vaguely threatening out of Les Bleus.
But the fact they were ushered out of the tournament with barely a whimper, hardly a decent goal threat in the whole game, is totally symptomatic of playing these sons of Dali.
Catching on in the US
And the style is certainly catching on, as observers here have been quick to point out, with every game being shown live and all the main sports agencies carrying detailed reports and analysis. Heck, even the heavyweight radio station NPR - the US equivalent of Radio Four - has offered its own observations, notably on the Greece-Germany game, which proved a fascinating socio-political commentary for those tuned in to the slow sinking of the European currency!
It all follows on from record American TV viewership of the recent Premier League campaign and a growing audience for the MLS, proving that 'soccer' not only has a strong foothold in the land of 'football' but is thriving and able to command as much interest as ice-hockey, the traditional 'fourth sport.'
But back to long-distance observations on Euro 2012. It is now pretty clear there are three elite teams, and Everyone Else.
There are Spain, Portugal and Germany, and then the likes of Italy, England, France, Holland, etc, etc. And, yes, not many people here fancy the Italians to upset Joachim Loew's impressive outfit, let alone tackle the Iberian Twosome who now boast the Artist's Touch par excellence.
Suddenly, there is a gulf between the new Big Three and The Rest, and it would be a major surprise if one of them isn't triumphant on 1 July.
Portugal, recently derided as Spain Lite, have proved unarguably they now have the confidence and cool to back up their talent, while Germany's strength in depth is quite awesome after they 'rested' some of the prime talents against Greece and still looked like they had plenty in reserve.
Top trio
It means we have two of the most compelling semi-finals of a major tournament in recent memory.
In the Battle of Iberia, something has to give between two sides that revel in the possession game that almost literally paints the opposition into corners and can rout a team 1-0, where that hapless opposition can feel fortunate to get '0'.
Just look at the demeanour of both France and the Czech Republic after facing Spain and Portugal respectively. They seemed like they were happy just to get off the field without being humiliated in the scoreline, albeit they were a distant second-best in quality terms.
And, although the Greeks did manage to record a positive number in their result against the Germans, there was never any doubt they were always going to be on the wrong end of another, distinctly higher, numeral.
That theme is also prevalent in the way many people - from ESPN to Sports Illustrated - summed up England's 0-0 'thrashing' by Italy, where pundits were fixated by the number of attempts on goal, which was a staggering 36-9 in The Azzurri's favour.
Indeed, ESPN's commentators pointed out that Cesare Prandelli's men piled up 20 on-target efforts in the full 120 minutes - more than England managed in four GAMES.
Statistics, of course, don't tell the whole story, but they are mighty powerful. And, for once, you suspect the pundits are spot on in saying this England team are miles away from being competitive at top level.
Not so much Dali as Daley. Arthur Daley.