Peerless Pirlo
What if Roy Hodgson had called Paul Scholes to fill the Andrea Pirlo role for England?
Last Updated: 25/06/12 6:19am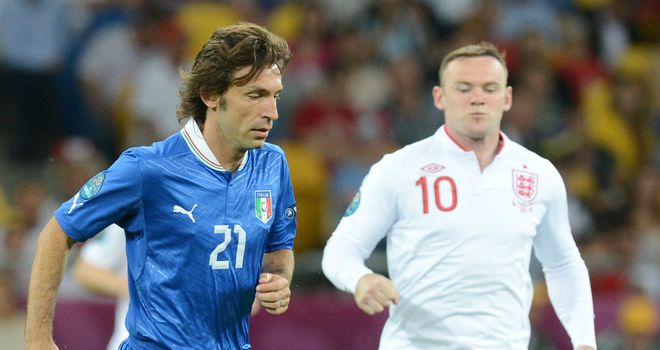 "They have weaknesses that we can exploit, particularly in the midfield. They are missing some key players and I think we will have the measure of them in that area."
Those were the words of Andrea Pirlo in the build-up to Italy's Euro 2012 quarter-final victory over England and it was impossible to dispute the veteran midfielder's prediction following the events in the Olympic Stadium in Kiev.
Whereas Pirlo produced a masterclass in dictating the tempo of the game, with a majestic array of passing, England's midfield duo of Steven Gerrard and Scott Parker were never even close enough to attempt to step out of his shadow.
Gerrard had been England's most impressive performer during the unbeaten run through the group phase, but he was unable to exert any influence in open play, restricted to a bit-part role in delivering a couple of searching set-pieces.
Parker was even more of a benign figure in midfield, his legs failing him probably before half-time and he wasted a couple of chances to play in Theo Walcott before he was replaced by Jordan Henderson in extra-time.
Whether long or short, straight or diagonal, Pirlo's passing was a work of beauty, but it's worth remembering England do possess a player capable of painting a similar masterpiece - the only problem was that Paul Scholes was sat at home, with his feet up.
Scholes' form for Manchester United after coming out of retirement in January prompted a clamour for the 37-year-old to be parachuted into Euro 2012, just like coach Roy Hodgson had been prior to Fabio Capello's resignation.
Clamour
Hodgson admitted he didn't want to ask Scholes the question for fear he would be snubbed in the same way Capello was when he tried to persuade him to aid the disastrous 2010 World Cup campaign.
The answer may have been the same again, and it will remain one of those 'what if' moments. What if Hodgson had picked up the phone and cajoled Scholes into one last fling in Eastern Europe?
Certainly, England's shortcomings at the European Championship would not have been solved purely by his inclusion, and in the long term, you can understand why it didn't make sense, particularly with Jack Wilshere hopefully back in action by next season.
But, due to the nature of his late appointment, Hodgson had arguably nothing to lose, and everything to gain, by adopting a short-term approach in giving Scholes the chance to ping passes around the pitch in the way in which Pirlo did so elegantly.
Pirlo's impudent touch of class in converting his penalty in the shoot-out was merely the coup de grace on a performance which didn't merit his appearance on the losing side.
England's ability to pass the ball accurately, and keep possession, throughout the tournament was poor and, perhaps what is most worrying, is that a 37-year-old was just about the only fit answer due to Wilshere's incapacitation.
Hodgson has to be commended for fashioning an organised, functional team capable of reaching the last eight, but if England are to go any further at the World Cup in Brazil in two years' time, he will at the very least need to have unearthed another midfielder to rival Wilshere that won't leave him asking, 'has anyone got a number for Paul Scholes?'