Spain or Italy?
Sky Sports' writers argue over who will win Euro 2012 ahead of Sunday's final in Kiev.
Last Updated: 30/06/12 2:18pm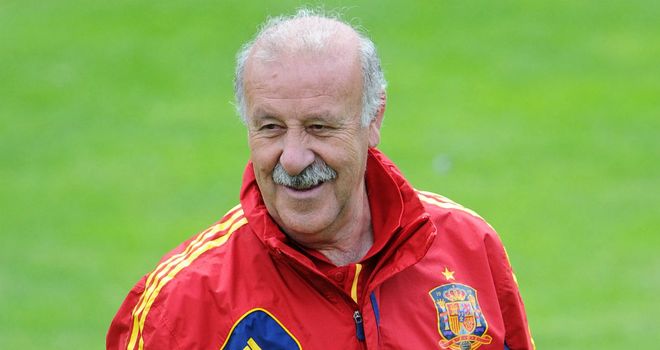 Spain could make history if they defend their Euro crown in Sunday's 2012 final while still holding the World Cup. But an Andrea Pirlo-inspired Italy stand in the way of Vicente del Bosque's men ahead of their showdown in Kiev. Who will win this year's European Championship? Sky Sports argues the case.
Lewis Rutledge: Italy will win Euro 2012, because...
Italy have a habit of performing well when their domestic game has been engulfed in scandal and they also have an excellent record against Spain in competitive internationals.
It was still something of a surprise when the Azzurri drew 1-1 with Spain in their opening group fixture, but they showed then that they could compete with anyone and have steadily improved with each match.
They outplayed England in the quarter-finals before stunning Germany in the last four with an excellent performance that they will be looking to replicate against Spain.
Italy's defence has been typically solid throughout the championship, with Federico Balzaretti, Andrea Barzagli, Leonardo Bonucci and Giorgio Chiellini restricting the opportunities of opponents and Gianluigi Buffon exuding authority between the posts.
In front of the back four has been the imperious Andrea Pirlo, who is playing some of the best football of his career at the age of 33 and has outshone just about everyone else in the tournament with his classy passing game which has allowed Italy to dictate the tempo in every match.
Running Pirlo close in the entertainment stakes has been Mario Balotelli, the maverick Manchester City striker who has worked hard for his team and kept his discipline, allowing him to do what he does best and produce match-winning displays.
Cesare Prandelli deserves credit for the way he has handled Balotelli and the manager has proved himself to be an astute tactician with his flexible formations and effective substitutions.
While Italy would appear to have the momentum of an unstoppable force, Spain look like a spent force after battling their way through to the final without playing as well as they did four years ago, or indeed at the 2010 World Cup.
That invincible aura seems to have gone and Vicente del Bosque admitted before the semi-final against Portugal - which went to extra-time and penalties - that his players were drained.
Portugal troubled Spain for long periods and could have won if Cristiano Ronaldo had brought his shooting boots with him, so Italy should follow a similar blueprint and stay patient.
With such a strong spine to their team and a counter-attacking threat which was clearly in evidence against Germany, the ingredients are in place for Italy to end Spain's period of dominance and claim European glory.
Chris Burton: Spain will win Euro 2012, because...
If a well-oiled Spanish machine clicks into top gear, they will beat any team in the world - be that Italy, Germany, Argentina, Brazil, whoever.
On their day, the reigning European and world champions are a class apart and have the ability to make good sides look distinctly average.
Unfortunately for their rivals, both here at Euro 2012 and in the recent past, they have a lot of good days.
It could be argued that they have yet to show their true ability at this summer's European Championship, with Vicente del Bosque's side having made it to a third consecutive major final without really being tested.
Yes, they were taken to penalties by Portugal in the last four and their luck held in the shoot-out lottery, but teams who are this good tend to make their own luck and possess the quality of player required to hold their nerve when the pressure is on.
The Spain squad will probably feel that they still have plenty left in tank, with true champions able to raise their game when required.
They will, however, be expecting to dominate against an Italian outfit who pride themself on defensive resilience and the abilities of one creative influence in the form of Andrea Pirlo.
England, in the quarter-finals, and Germany, in the semi-finals, allowed Pirlo the time and space he required to make the Azzurri tick - Spain will not be as generous.
Should they stick with the 'false nine' system which has served them well so far, then Italy will find themselves up against a six-man midfield - and one which affords their opponents no time to dwell on the ball and pick a killer pass.
Spain are also masters at drawing deep-lying defenders out and dragging players into unwanted positions - so holding midfielders such as Pirlo and Daniele De Rossi will need to keep their wits about them if they are to avoid leaving gaping holes in the kind of areas the Spanish love to exploit.
If Spain turn it on, they will win - righting the wrongs of their 1-1 draw with Italy in their Euro 2012 opener. They are, after all, the current holders of the continental crown and know what it takes to get the job done.