Ones to watch
England goalkeeping coach Dave Watson gives us the lowdown on the likes of Casillas and Buffon.
By Kait Borsay - Follow me on Twitter @kaitborsay
Last Updated: 03/06/12 6:33pm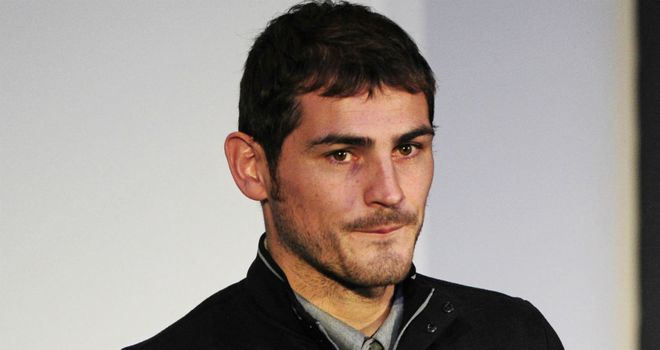 England will have to find their way past some of the finest goalkeepers in the world if they are to be successful at this summer's European Championship. The Three Lions themselves boast one of the best shot-stoppers in the business in the shape of Joe Hart. But what of the other men between the posts in Poland and Ukraine? England's new goalkeeping coach, Dave Watson, gives Sky Sports his views on the likes of Iker Casillas, Gianluigi Buffon and Petr Cech.
Iker Casillas
He is a winner. He has won the World Cup, the European Championship and he has just won the league title with Real Madrid, again. You do not achieve all that without being a great. His record speaks for itself. He can handle big games, big scenarios, and you would assume he will play a big part in Spain's success this summer, if they go on and do very well.
Gianluigi Buffon
He has done the lot, a big-stage player. With the way Italy play, strong defensively, he has been a very important part of that system.
Petr Cech
The Czech Republic's main man. He has had a great season with Chelsea and his performances in the UEFA Champions League semi-final against Barcelona and then the display against Bayern Munich in the final mean his confidence will be riding high.
Manuel Neuer
I saw him play last year for Schalke and subsequently he got his big move to Bayern Munich. The fact he stepped up and took a penalty in the Champions League final says a lot for the confidence of the man. He has been a big part of the German team over the last few years. He is a good, young goalkeeper who flourished by being given the support and backing and got his big move. This will have raised his profile and he will have had to raise his game accordingly.
Hugo Lloris
I saw him when I went to see what must have been Ben Foster's last game for England. He has done really well with Lyon, receiving several plaudits this season. At the age of 25, he has established himself as not only the France No.1, but also as the newly-crowned captain of his country.