I remember...
Boli, Panenka and McCoist - our football desk recall the personal European Championship moments.
Last Updated: 06/06/12 6:53am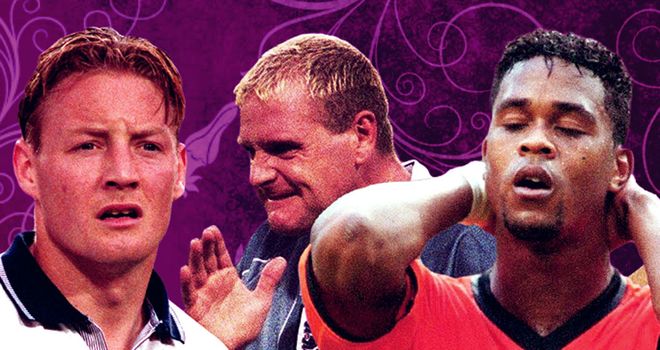 Whether it was regretting Gazza's shoe-size or admiring the class of Marco van Basten, everyone has a favourite European Championship moment. But we also all have personal reasons why penalty heartbreak or match-winning celebrations stick in our minds throughout the years. And here, some of skysports.com's football desk remember a collection of the unusual events from the past and explain why the incidents hold a sense of individual nostalgia. You can give us your best European Championship moments via the feedback form at the bottom of the page or take part in our online vote.
Alex Dunn - Features editor
England's midfield
The major disappointment of Euro '92 was the fact I was 12 years old. Had I been five years older, there is a chance I might have made the squad. England lined up against France with a midfield that read: Platt, Batty, Palmer, Steven, Sinton. In the next game, a 2-1 defeat by Sweden, Neil Webb and Tony Daley started.
Basil Boli's headbutt
This was the first act of genuine violence I had witnessed on a football pitch. It was unnerving and exciting in equal measures to my innocent eyes. I was aware of Stuart Pearce's Psycho moniker so when a wild-eyed Boli (who I had a soft spot for already for his exploits with the brilliant Marseille team of the time) stuck his nut into the face of England's No.3 with a force that could have resulted in a jail sentence, it was genuinely shocking. The best bit is when Boli runs off, leaving a bloodied Pearce to chase in his wake. Proper hard men/psychopaths.
David Milner - Picture editor
Defaced
I was nine years old when Euro '92 was staged and the only thing I remember was taking a red felt-tip pen to my England shirt so it included the No.10 on the front and Gary Lineker's name on the back. It must have been the first international tournament where the players' names were printed on the shirts.
'Prayer Mat'
Oddly, I do not really remember much about the 2000 tournament, just kneeling on the centre page 'Prayer Mat' in The Sun newspaper for the must-win group game against Romania - it did not work. In 2004, England thrashed Switzerland and my mate - who was born in Geneva - took a lot of stick. I thought Wayne Rooney was going to win us the tournament by himself, but once again fate intervened in the form of a broken metatarsal.
Chris Harvey - Editor
Paul Gascoigne
My son was due just weeks after Paul Gascoigne came within a shoelace of putting England through to the final of Euro '96. Perhaps he is among the few Englishmen grateful the midfielder's outstretched leg did not connect with Alan Shearer's cross, otherwise he would have been saddled with Tom Gazza Harvey!
Antonin Panenka
My first experiences of international tournament football did not involve England yet I was captivated by how 'little' Czechoslovakia defeated the might of world champions West Germany in 1976 with the most impudent goal to ever win a major competition. The Germans seemed destined to add the Euros to their world title before Antonin Panenka produced the coolest spot-kick of all time as the Czechs saw off Beckenbauer, Vogts and co. on penalties.
Graeme Bailey - Senior reporter
USSR
My first recollection of international football is my family watching the 1986 World Cup. But I remember that as shouts from the front room, as I was in bed. My own personal first memory is from the European Championship in 1988 and particularly England's 3-1 loss to USSR. England were shocking in Frankfurt.
Wembley
This is my only genuine memory of the Euros, as I attended the Euro '96 semi-final at Wembley between England and Germany. We had a wonderful front-row view and we were level with Paul Gascoigne as he slid in and agonisingly missed the chance to put England in the final. I do not remember much about the shoot-out, other than the expectation from the off was that we would lose.
Adam Bate - Reporter
Dutch penalties
I have always fancied myself as a penalty expert. So it is amusing to see professionals flounder. Holland's penalty meltdown in their Euro 2000 semi-final against Italy included normal-time misses from Frank de Boer and Patrick Kluivert before Jaap Stam, Paul Bosvelt and De Boer (again) in the shoot-out.
Karel Poborsky
One of the European Championship's most famous goals as he scooped the ball over Portugal's Vitor Baia at Euro '96. But this is a game tainted by the fact that most of my friends were there at Villa Park that day - and I was not. Cue endless discussions of how amazing it was to see it in the flesh and a summer of terrible attempts to recreate the goal in the playground.
Peter Fraser - Reporter
Ally McCoist
McCoist's strike for Scotland against Switzerland sticks in my mind. It was a screamer and his celebration was very passionate. One of my best friends is Scottish and he still talks about the goal. I like to remind him England conceding a goal in the thrashing of Holland meant Scotland were knocked out - 'banter'.
Euro 2004
Ever since the turn of the Millennium, I have considered England to be horribly over-rated. As a consequence, I have struggled to find any sort of passion for the team. But I was genuinely upset when England blew a one-goal lead in injury time to lose 2-1 to France in their first game at Euro 2004. It was a cruel result and Steven Gerrard's back-pass was a particularly horrendous moment.
Chris Burton - Reporter
Jurgen Klinsmann
To date, the only game at a major international tournament that I have attended in person saw Germany sweep aside Russia at Euro '96. Jurgen Klinsmann scored a belter with the outside of his boot and we all chuckled at player names. We were not laughing when Germany knocked out England.
Uri Geller
Gary McAllister lined up a penalty, the ball moved on the spot, David Seaman saved, England went up the other end and Paul Gascoigne scored one of the greatest goals of all time. I remember Uri Geller tried to claim full responsibility, which was nice of him.
Rob Parrish - Deputy chief sub-editor
Zinedine Zidane
Watching the great Zinedine Zidane in the flesh at Elland Road as France drew with Spain after enjoying England's triumph over Scotland, which featured Paul Gascoigne's strike and ensuing two-fingers-to-the-media celebration, on the big screen of the Skyrack pub in Headingley, Leeds, takes some beating.
Greece lightning
England's current crop could learn a lot from Greece's triumph against the odds at Euro 2004. A perfect demonstration of making the most of limited resources against superior opposition.
Peter O'Rourke - News editor
Ray Houghton
This was an iconic moment in Irish sport, with Ray Houghton's goal at Euro '88 giving Jack Charlton's men a shock win over England and sending everyone partying after the game. Unfortunately, Ireland then drew with the Soviet Union and lost to Holland to mean they went home.
David Trezeguet
I remember this golden goal winner for all the wrong reasons, as it cost me money having backed Italy to win the tournament at the start of the competition. But it was a stunning strike by Trezeguet to give France the glory.
James Pearson - Reporter
Golden goal
I was actually a fan of the golden goal. On holiday in Greece, the Euro 2000 final between France and Italy had it all. Marco Delvecchio's side-footed goal looked to have given the Azzurri the trophy only for Sylvain Wiltord to force extra time. David Trezeguet lashed home the winner.
Missing out
England failing to reach the Euros in 2008? Never. Surely a draw at home to Croatia to qualify is a walk in the park? Devastated at the 3-2 loss. The selection of Scott Carson in goal and Steve McClaren's umbrella in the rain sticks out.