Restrict Ronnie
Spain must stop Cristiano Ronaldo to reach the Euro 2012 final, Graham Hunter told Sky Sports News.
Last Updated: 27/06/12 2:40pm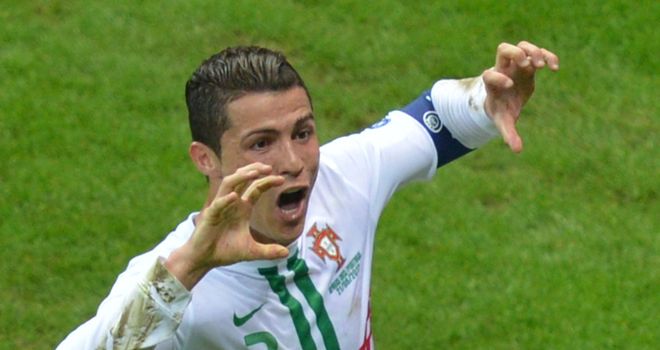 Spain must stop Cristiano Ronaldo if they want to progress to the final of Euro 2012, Graham Hunter told Sky Sports News.
The Real Madrid ace has bagged three goals at the Championships so far and has hit top form just in time for the Iberian showdown in Donetsk.
Spain may be reigning world and European champions, but they can't afford to let the Portuguese captain have too much time or space, according to Hunter.
"I'm a great admirer of Ronaldo," he said. "I waste a lot of my professional hours defending him against people who don't understand him.
"If you judge him on his talents it is patent to see we are lucky to be watching him - and I know Manchester United and Real Madrid fans would agree with that.
"He isn't just a superb athlete, I think his football is undervalued and how he's changed under Jose Mourniho is undervalued, too. He's become a far more complete team player. Anybody who's born with tremendous gifts and then develops them as well gets my admiration.
"And as far as tournament football is concerned, up until now I've been enjoying the way Ronaldo has been demonstrating he's a big-occasion player."
Know your enemy
However, Hunter says Spain will have the advantage of knowing exactly what Ronaldo can do from first-hand experience.
The forward trains everyday with almost half of the Spain starting line-up at Real Madrid and has met many of the other Spanish players in La Liga and the Champions League.
"Spain are used to him," said Hunter. "They lost their last game to Portugal, a friendly, 4-0, and he didn't score, but, more importantly, Portugal lost in the World Cup to Spain and Spain managed to keep him relatively quiet.
"Talking to the Spanish defenders, since this tie was made clear, they've said it's a team job to stop him. Gerard Pique said they must watch him warily when Spain have the ball, because if you lose the ball and the play breaks down, Portugal break so quickly and intelligently, and Ronaldo is able to do his special things - even more so than when Portugal have the ball and use their slow, methodical build-up.
Fascinating
"Spain know a lot about Ronaldo's fallibilities and strengths. Almost half of the Spain starting side are at Real Madrid with him and play daily with him in training.
"Every day Alvaro Arbeloa goes to training and has to work out how to prevent Ronaldo making him look stupid, how to block him. To me, the battle will be fascinating.
"Of course, Spain know Portugal aren't just a one-man team. They know they need to do more than simply blunt Cristiano Ronaldo. Vicente del Bosque has been very careful to ensure no complacency should seep into his players' behaviour on the field.
"There are tests all over the pitch for Spain - but I happen to think they are capable of passing them all and going through."