A spot of stress
Guillem blogs on his penalty panic, Spain's striker-less success and a ticking off from King Kenny!
Last Updated: 28/06/12 2:14pm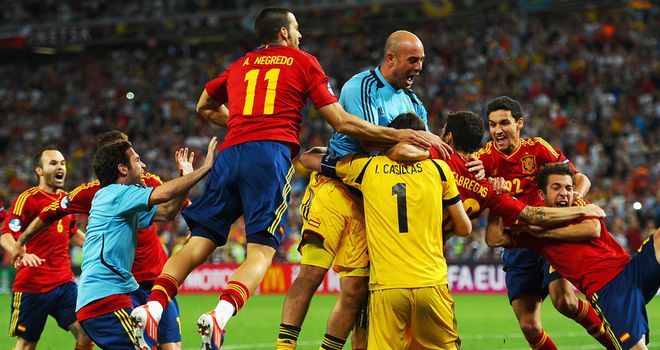 During that semi-final I was thinking: 'Don't make me go through penalties again, please. Please no. I cannot take the stress.'
I texted that to my friends in the Spain squad, and two of them came back with the same answer: 'hahahahaha.'
Yes, they were laughing. They were so confident and they have that winning mentality that their generation has developed.
Me, I come from a generation before that was used to seeing a national team that played wonderfully - yet always went home frustrated. Well, not anymore
This team is competitive even though we make life difficult for ourselves. Alvaro Negredo? You might have wondered what the thinking was behind his surprise selection - ahead of Fernando Torres, Fernando Llorente and even Cesc Fabregas.
Well, it's quite clear that Llorente's season has taken its toll and he is not the only player running on an empty fuel tank. By the way, that explains the conservative possession game we are seeing from Spain: it's partly down to wanting to control the game, partly to actively rest.
Negredo was deployed to give Spain the option of using long balls, as he can hold up well and muscle out the centre backs. If he fixed the centre backs, the midfielders could have had more space in the centre.
It didn't work too well and when a player gets replaced in the 54th minute it's a clear sign that the coach is not that happy. Bruno Alves and Pepe were excellent in neutralising Negredo and annihilating his contribution. So that was Spain with a striker - what so many wanted to see.
But the Spain without a striker played much better, especially when not only Cesc but Jesus Navas and Pedro were introduced. The first half of extra-time was wonderfully played, we attacked down the wings and the tired legs belonged to the Portuguese.
Cristiano Ronaldo's team produced a fairly good 90 minutes of football, stopping Spain building from the back, putting pressure high up the pitch and disrupting their usual passing fluency - but Portugal lacked cutting edge up front. During extra time Spain were superior.
Handle pressure
And then penalties. Sergio Ramos!! He needed to show he is cool headed and can handle pressure after missing one against Bayern Munich - for which he received so much stick in Spain - and he had planned to do something like what we saw; almost giving an entire nation a heart attack!
And Cesc asked to take the fifth.
There has been a bit of controversy in England as many have criticised Ronaldo for taking the fifth penalty. Hindsight is a wonderful thing. I tried to explain that on Twitter but probably not clearly.
Before the shoot-outs begin - before you know if your rival will score them all or miss any - the fifth penalty is the only one that you can say is most likely to be decisive: win you or lose you the game (it can also help you stay in the game).
So, if Portugal had the chance to win it or save themselves with that that fifth penalty, wouldn't you want Ronaldo to take it? Cesc thought it was going to be the crucial one and was brave enough to volunteer for it.
So, with possession, technical ability, physical strength, tactical innovation - but not spectacularly - Spain has reached a third final in a row. Unquestionably that makes my nation one of the best in history.
By the way, during the penalties I used a bad word in Twitter, the first one I have ever used. I was so nervous, walking up and down and unable to stop my heart coming out of my mouth.
One person told me off... Kenny Dalglish! (using funny slang, 'no ham sandwich', what does that mean? No bad language I think).
Well, getting to the final and being told off by the King (I apologised! And he told me he is backing Spain and that he will watch them in Spain on Sunday by the way) made the evening totally extraordinary.
Guillem Balague's Euro Diary will become, along with added entries and interviews, an eBook at the end of the tournament.
For more info, check www.guillembalague.com