Stepping up
Exeter midfielder David Wheeler discusses joining the pro ranks and a Premier League Cup run.
Last Updated: 06/02/14 8:19pm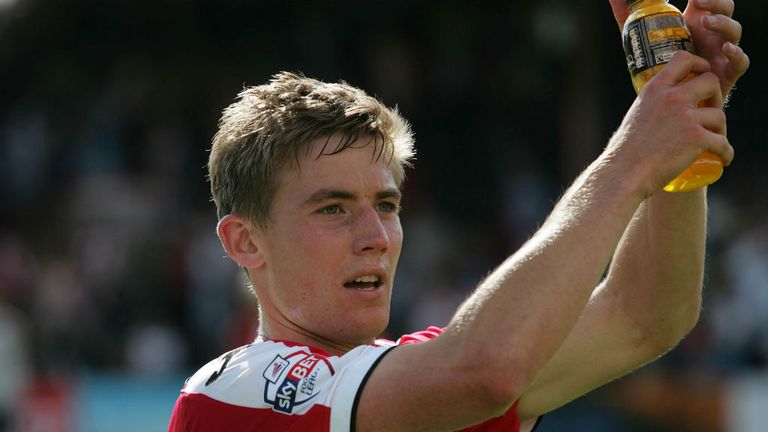 The 2013/14 campaign is now past the halfway stage, with divisions beginning to take shape.
Here at Sky Sports we will look to take you to the very heart of the Sky Bet Football League over the coming months, with our Spotlight features intended to give you a greater insight into the clubs and players that keep us on the edge of our seats.
We hope to bring you the views and thoughts of a representative from each of the 72 teams over the course of the season, with those involved asked to give their take on the division they compete in, the club that pays their wages and those we should all be keeping an eye on.
Exeter's David Wheeler is next into the hot-seat, with the Grecians midfielder taking time out to discuss joining the pro ranks and Premier League Cup runs with Chris Burton.
How have you found the step up into the Football League - has it been easier or tougher than you imagined?
It has been what I expected in a lot of ways. It's a lot faster and you have to be a lot stronger and a lot fitter, and I was expecting that. But the demands for standards, every week and every day in training, and technically it's probably harder than what I was expecting. At the beginning I went straight into the team at the start of the season, which I wasn't expecting to happen, so I was obviously really, really chuffed with that.
The standard of non-league football is rising all of the time isn't it, so there isn't quite the gulf in class that there was in the past?
There are plenty of players that I have played with or against over the years in non-league that are now playing in League football and I think there are also plenty of players in the Conference South and Conference Premier that it's just a case of getting more income by having another job as well than what they would if they were playing professional football. The ability of some players is a bit warped with regards to what there is there.
Were you aware last summer that there were clubs looking at you or was it a case of having to try and open a few doors yourself?
There were a few whispers of people coming to watch, certain scouts coming to watch, but it is never set in stone and at the end of the season it was more a case of a bit of luck. I just had to go out and prove myself on trials.
When you're playing at that level, do you feel like you are getting noticed, because it hasn't always been easy to get picked up by a League club?
It's always the goal and it seemed like such a far off, distant prospect and ambition while I was playing because there weren't any obvious ways that it could happen. It was just a case of hoping that someone came and watched you and you played well. Now I'm here, it's strange to put it on so much of a pedestal. There is definitely a big jump but, at the same time, it's not as daunting as it once was.
You had to go on trial, that's never easy is it when you have to deliver and show what you are about in a short space of time?
True. But at the same time, I sometimes play a lot better with that kind of pressure. Knowing that I have to give absolutely everything sometimes is an advantage because you can't hold anything back. I suppose it is a lot of pressure but, for me, luckily it helped in a lot of ways.
Like you say, you were thrown straight in and I imagine you are pretty happy with how things have gone aren't you - you've been involved regularly and have won the fans over?
I would have loved to have scored a few more goals and contributed more goals to the team. I had a bit of a run out of the team, which I think is good in some ways because it keeps your feet on the ground. But I have been chuffed that I have been involved so much this season, I hadn't expected to be this involved. It's been great for me personally.
I was going to say, do you consider yourself to be more of a goal-scoring winger - you have been that in the past and hope to be so again heading forward?
Absolutely. I have been looking at why I haven't been. I've had chances here and there and created chances. I don't know, I think it's a lot of factors. I feel like I still can contribute with goals, it's just a case of maybe working on different parts of my game to create more chances than I have been having recently.
You've been involved with the U21 side of things as well, and that's been going really well hasn't it?
Yeah, it's been great. The guys are quite a close-knit group that have been together for a really long time and luckily, because of my age, I fit pretty well into their group. The run we've had in the Premier League Cup has been really good and boosted morale. We've played some really good football.
There are some top teams still left in that competition so it must have been disappointing to see the quarter-final tie with Burnley postponed on Tuesday?
All of the time I think there was a bit of doubt on it because the weather has been so bad down this way, but when it got to the stage where we were warming up before the game we were really geared up for it, feeling good and then unfortunately it got called off half-an-hour or 45 minutes before kick-off, which was disappointing. I'm sure it was for Burnley as well having to travel that far. We're still looking forward to it and hopefully we can get to the semis.
To think that you could be playing Arsenal or Manchester City 12 months on from playing Conference South football, you must be pinching yourself?
Obviously I'm one of the over-age players but, at the same time, some of these lads are incredibly technically gifted and in that respect I have got a bit of catching up to do. But luckily for me, I have got other parts of my game that I think can contribute to the team. It's just an extra thing that I can enjoy being a part of.
But the priority is helping the first team to consolidate isn't it - you've gone five without a win and are looking over your shoulder a little at the moment?
The lads have been really, really solid and we have looked a lot surer at the back. It's just a case of taking our chances a bit more. We've been having really good chances in the games, we just haven't been finishing them off. But the main priority is starting to pick up more points in the league.
Looking at your fixtures, six of the next eight are at home so it's important that you make the most of that run isn't it?
Yeah. Historically, in the last few years, we haven't been great at home, but this season we started really well at home, I think we won three or four of the first few games that we had at home. If we can get back to that kind of form it would be great. Especially in the next few weeks, that could make all the difference to our season.