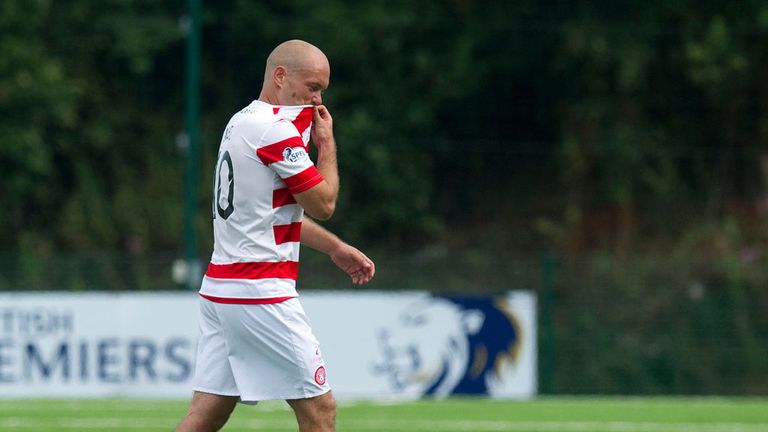 Hamilton boss Alex Neil has asked for patience after his side lost 2-0 at home to Inverness in their first game back in the Scottish top flight.
Billy McKay and Ryan Christie were on target for the visitors in the first half, capitalising on Hamilton errors, but the hosts were improved after the break, giving Neil some encouragement.
"I just hope that people don't turn on us in terms of the fans, and that they stick with us, because we will improve and we'll get better," said Neil.
"I think in the second half we played well. Certainly, in the first half, we looked a bit apprehensive.
"I think you could sense there was a bit of tension from the younger players.
"I think they were just testing the water and seeing what this level is like, rather than really going out there and giving what they've got.
"I think we did that second half, I thought there was a vast improvement. In terms of keeping the ball it was a lot better, and defensively as well."
And Neil says he has told his players they are sure to struggle if they continue making defensive mistakes.
"That's what going to cost you at this level and I said that to the players," he added.
"If you're going to give sloppy possession away in dangerous areas, you're going to get punished.
"It's a wee bit different to the Championship in that way.
"Maybe one of them (the mistakes) you would have got away with in the Championship, whereas at this level, with strikers like Billy McKay, it's not going to happen.
"I said to them at half-time: 'What is there to be scared of? Just go out and play, and enjoy it, and let's see what we can do.' And I thought we did that second half.
"It will certainly be a learning curve but we're going to have to learn quickly and we're going to have to cut out the mistakes.
"If we can do that, then there's no reason, based on the second-half performance, why we can't go out and pick up some points."