Spanish duo reply to UEFA
Malaga and Atletico Madrid are confident of avoiding punishment after UEFA temporarily withheld their prize money.
By Subhankar Mondal
Last Updated: 11/09/12 6:22pm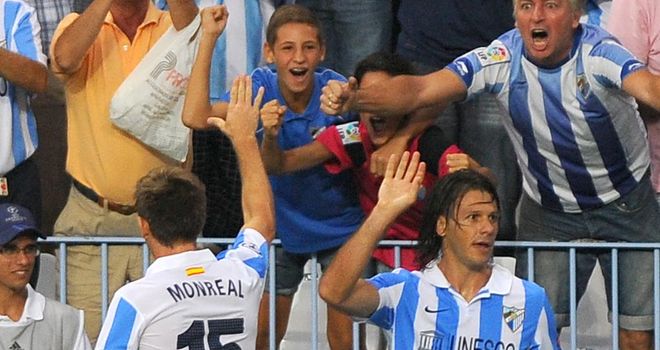 Spanish clubs Malaga and Atletico Madrid are confident of avoiding punishment after UEFA temporarily withheld their prize money pending an investigation into their financial practices.
The Primera Liga duo were among 23 clubs named in a statement by European football's governing body on Tuesday as part of the "first measure" of UEFA's much-touted financial fair play rules.
UEFA said that they had identified "that important overdue payables towards other clubs, and/or towards employees or social/tax authorities existed in 23 cases," and added that they would "provide an updated situation as of 30 September 2012."
However, Malaga, who have qualified for the Champions League group stage for the first time this season, have issued a statement of their own to say that measures had already been taken to address their financial problems.
Debt reduced
"A complete internal restructuring process got underway over a month ago, aiming to guarantee the future viability of the club," said Malaga.
"The club is still fully immersed in this process, and has now stabilised the financial situation with other clubs, employees and players, and is in negotiations with the Ministry of Finance.
"Although a definitive agreement has not as yet been reached, the amount owed by the club has been significantly reduced over the last month.
"Malaga Club de Futbol has informed UEFA of this situation, and there is a transparent relationship between both organisations.
"The inclusion of Malaga Club de Futbol in the list published today (Tuesday) by UEFA is a precautionary measure, and not a penalty, which can be lifted as soon as an agreement is reached with the Agencia Tributaria (tax office), something which the club has been working towards for several weeks."
No wrongdoing
Europa League and UEFA Super Cup winners Atletico too explained that they had recently taken action to step into line with UEFA's fair play rules.
"We would like to clarify that UEFA's statement does not mean that any punishment has been imposed on Atletico Madrid," reads a statement on their official website.
The Madrid club added that documentation had been provided to UEFA on request last month and that they expected any ruling to be "favourable".