Joaquin hopes Malaga can return to top form against Real Betis on Sunday
Joaquin hopes the team can return to top form against Real Betis on Sunday after their defeat in the Champions League
Last Updated: 23/02/13 1:52pm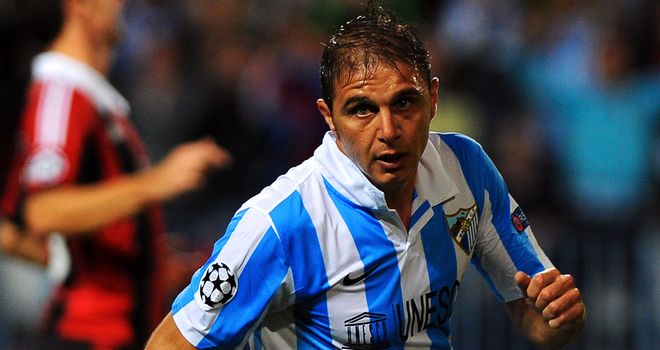 Los Boquerones still have a good chance of reaching the quarter-finals given they only trail 1-0 with the home leg to come, but it was the performance that frustrated the squad.
On Sunday Malaga turn their attentions back to the Primera Division and trying to use the Andalusian derby to boost their credentials as the main challengers to the top three.
Joaquin, who started his career with Betis, told www.malagacf.com: "We didn't see the Malaga we're used to seeing on the pitch on Tuesday.
"Porto were very strong, aggressive and maintained a tight defence, which made it difficult for us to keep hold of the ball.
"However, despite the fact they dominated possession, they didn't create very many opportunities to score, and only got the one goal, which was actually offside.
"We can't undermine the importance of the league as it's the key to every other competition.
"It's a long road but we're performing well in league games and we're concentrating on returning to winning ways and playing great football, as we've shown in recent matches.
"A victory would put us nine points ahead of a direct rival and, although there's still a long way to go, away wins are always important. We've had a good run of results in away games and have been performing well."
Betis are also well in the race for European football next season but need to rediscover the form that saw them beat Real Madrid in November after a run of one point from four games.
Defender Javier Chica told www.realbetisbalompie.es: "Playing Malaga will be difficult. This is similar to the match with Real Madrid, and we know we can hurt them.
"They're a team like Barcelona, with shorter players and good ball retention."